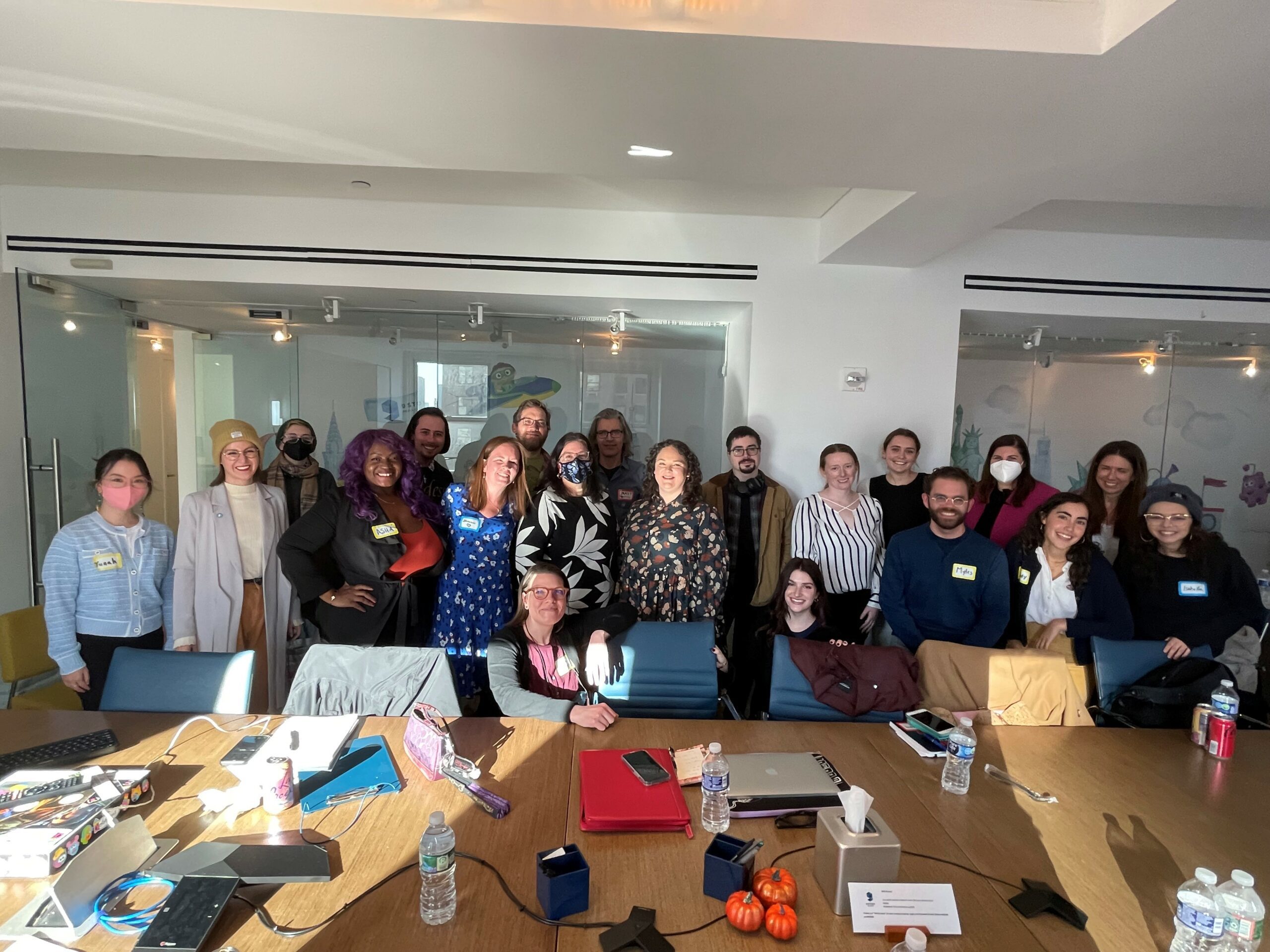 On Thursday, October 20th our 9 Story team hosted a special in-person event in collaboration with RespectAbility's new Children's Content Lab for Disabled TV Creators, at our studio location in New York City.
Attending the one-day session were RespectAbility's recently announced Lab Fellows, who make up the pilot cohort of their inaugural Children's Content Lab, which provides education and training for disabled writers, animators, and creative executives interested in preschool and children's television. RespectAbility, a diverse, disability-led nonprofit that works to create systemic change in how society views and values people with disabilities, began running Labs in 2019. These 15 new Lab Fellows join the ranks of the 122 Entertainment Lab alumni, who work to advance inclusion throughout the entertainment industry. Fellows include people with physical, cognitive, sensory, mental health, and other disabilities.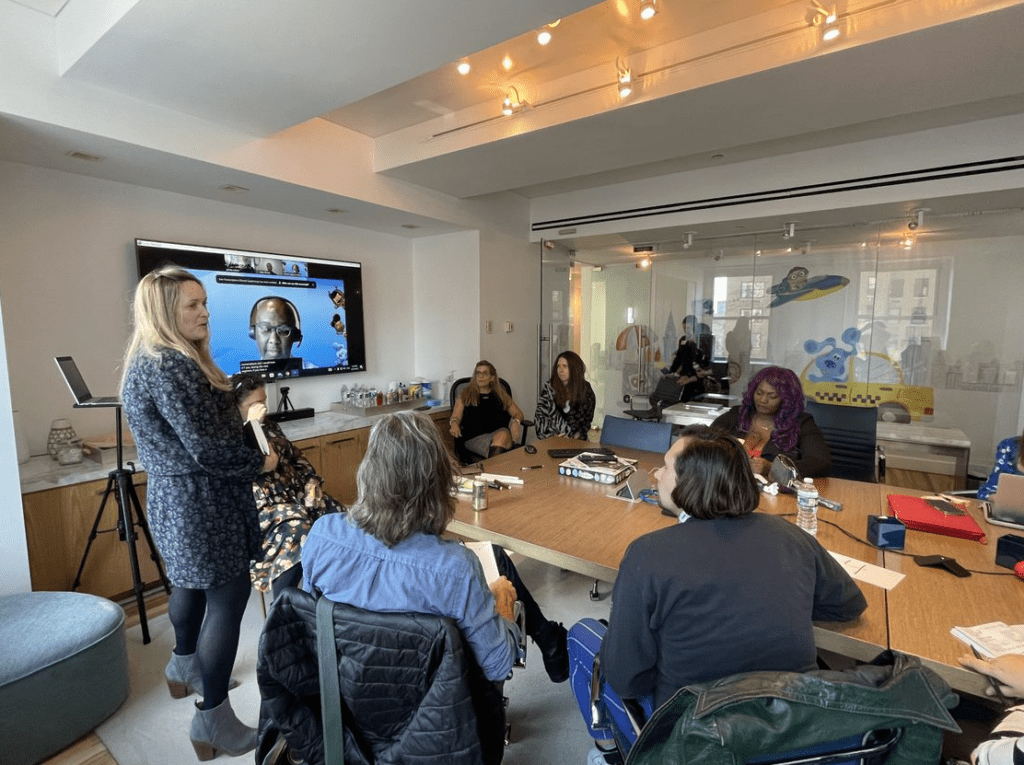 9 Story's partnership event featured a full day of programming that included presentations by members of our 9 Story leadership team, highlighting relevant industry topics, ranging from development, writing, research, and production. The Lab Fellows also participated in a speed networking session, having the opportunity to meet with 9 Story staff, selected from a variety of disciplines and relevant experience from across the company. The event closed with a moderated Question & Answer panel that gave Lab Fellows an opportunity to dig deeper into industry discussions with the 9 Story team.
Participants from 9 Story included:
Danielle Gillis, Director, Content & Production
Farrell Hall, Chief Inclusion Officer
Halcyon Person, Head Writer
Jamie Cohen, Producer, Interactive
Jess deMonsabert, Research Director
Marcy Pritchard, SVP, Business & Creative Affairs
Michael Brady, VP, Human Resources
Mike Pecoriello, Senior Producer/Co-Head Writer
Noriko Louison, Senior Manager, Research & Curriculum
Rachel Kalban, VP, Research & Curriculum
Robbie Hetzron, Audio Manager
Sarah Wallendjack, VP, Production & Development
Yunah Chung, Development Executive
Zoe Steckler, Coordinator, Research & Curriculum
9 Story's full day session was one part of the larger Children's Content Lab programming, which spans 5 weeks and includes in-person and virtual workshops, trainings, panel conversations, and networking events. The program also sees Lab Fellows assigned to two mentors, many of whom are from our own 9 Story team. The five-week intensive Lab concludes with a talent showcase with table reads of each writer's project performed by disabled actors. To further help program participants secure employment opportunities, the Lab also includes a variety of career development training with industry experts that will continue monthly for one year.
We would like to extend huge amount of gratitude to the entire team who helped pull together this incredibly comprehensive and meaningful mentorship experience. The workshop was a fantastic success filled with shared learnings and new connections.
"The first week was an amazing experience and I feel luckier than ever to have received this opportunity. The external speakers and companies, Silvergate and 9 Story, were so welcoming and helpful in breaking down the children's content world to the participating Fellows. They genuinely wanted us to succeed and were incredibly accommodating and insightful. They've definitely built their companies with the passion and love for shaping the minds of children and sharing necessary, important lessons and values. Their staff reflects that with their compassion, kindness, and creativity. The RespectAbility staff has been with us every step of the way making sure everything is accessible!" – Cassie Palmisano, Development Fellow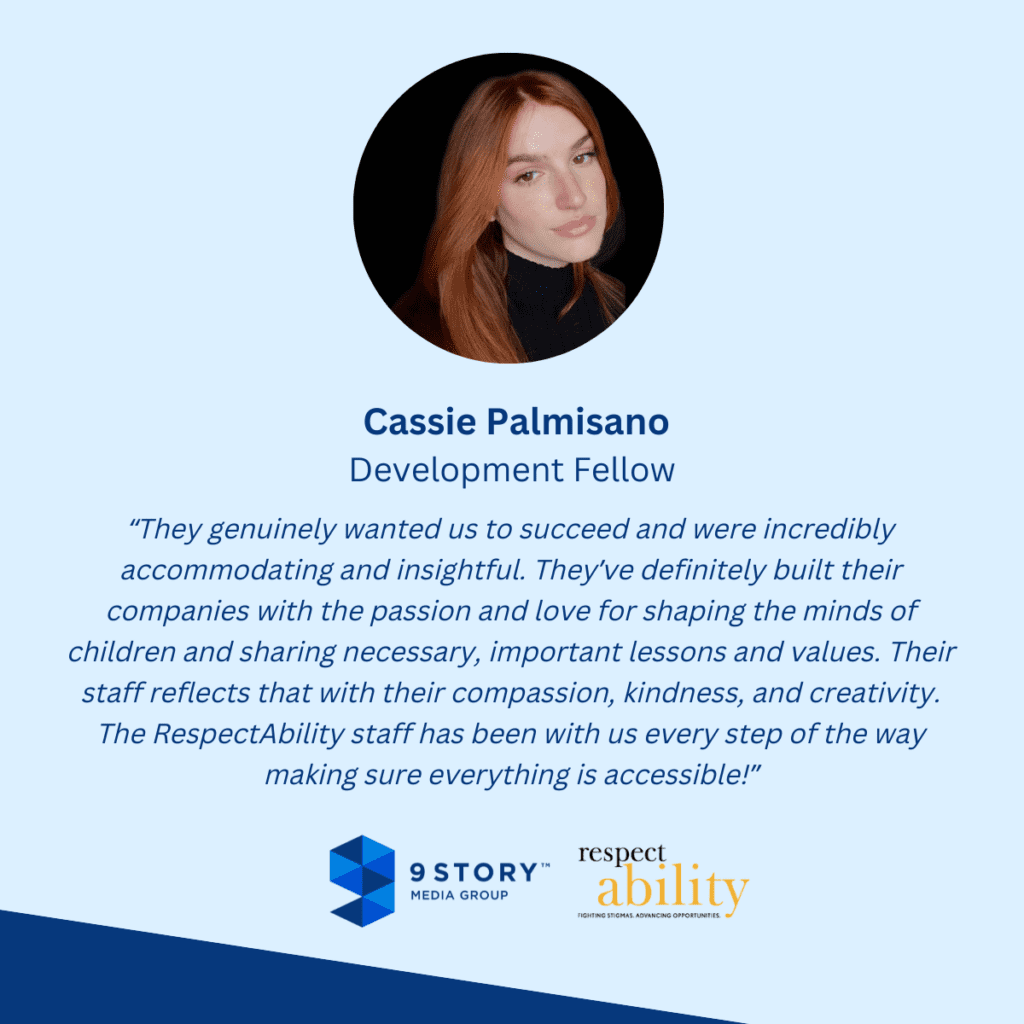 "It was super valuable to talk with Aly about my script and about navigating the twists and turns of a career as a writer. Hearing her perspective and experience feels like being given an inside scoop, and connecting with her has built another little bridge into the world of content creation for kids. I feel very lucky to be working with her!" – Matt Opatrny, Writing Fellow, whose mentor is Alyson Piekarsky (Jr. Story Editor, 9 Story Media Group)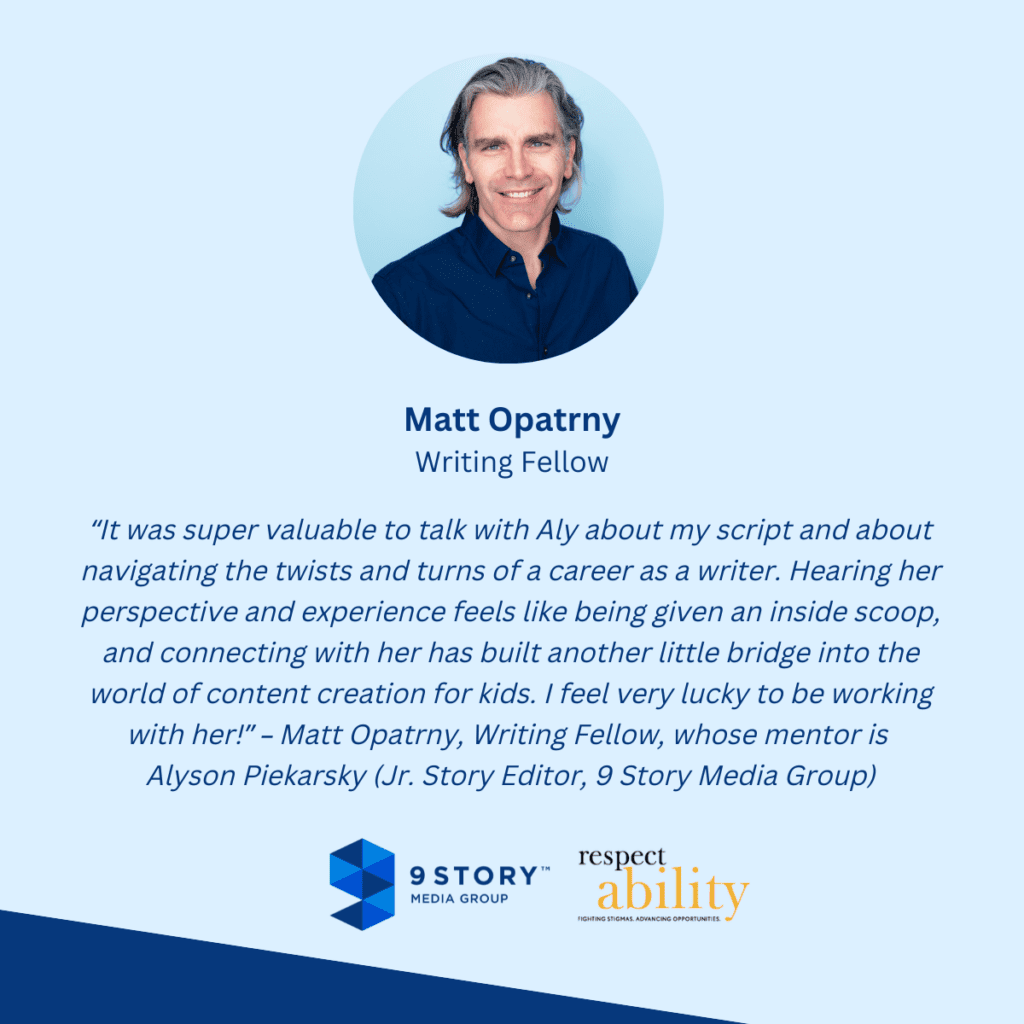 "Jamie is fast paced, knowledgeable and exciting to be around. It's abundantly clear he genuinely wants new and diverse talent to achieve their goals and he has been quick and gracious with filling in any missing questions or concerns I have. A perfect mentor!" – Ty Freedman, Writing Fellow, whose mentor is  Jamie Cohen (Producer, Interactive, 9 Story Media Group)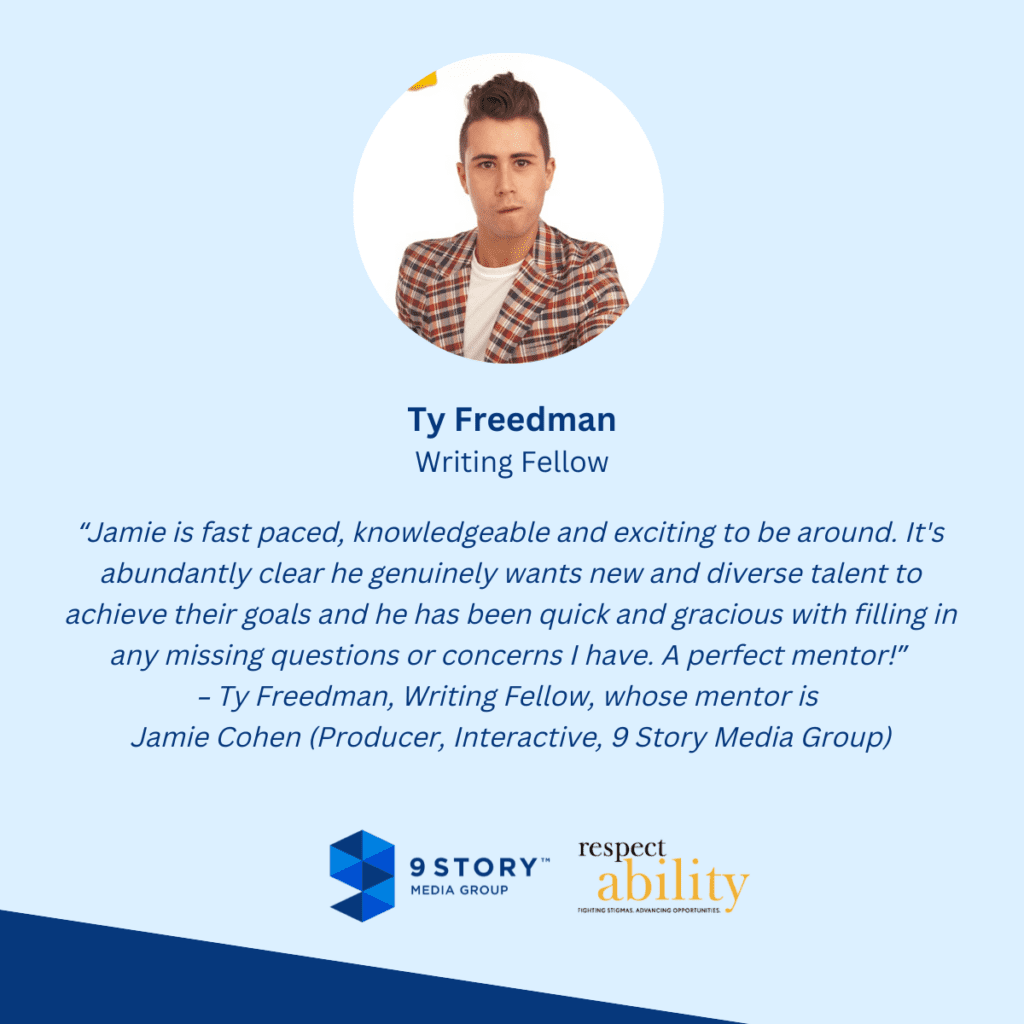 "It is an absolute honour to partner with RespectAbility on the inaugural launch of their Children's Content Lab for TV Creators. We were thrilled to host this year's lab participants at our 9 Story studio in New York and have the opportunity to share our industry knowledge, tips and professional experiences with these aspiring creatives." said Farrell Hall, Chief Inclusion Officer at 9 Story Media Group. "This program that focuses on creating opportunities for up-and-coming talent in the children's entertainment space is what real authentic inclusion looks like while we partner with community organizations like RespectAbility."
The Children's Content lab is supported by Netflix's Fund for Creative Equity. The Lab also receives support from a group of Faculty Advisors, who reviewed Lab applications. Faculty Advisors include Kiah Amara (Production Accessibility Coordinator, IndieVISIBLE Entertainment), Danielle Pretsfelder Demchick (Casting Director, DPD Casting), Noriko Louison (Sr. Research and Curriculum Manager, 9 Story Media Group), Martine McDonald (Narrative Change Consultant, Practice Wonder), Shea Mirzai (Writer and Co-Chair, WGA Disabled Writers Committee), Delbert Whetter (COO and Head of Business Affairs, Exodus Film Group), and Diane J. Wright (Screenwriter and DEIA-Certified Media Consultant).
The Lab was created by RespectAbility's SVP of Communications and Entertainment & News Media Lauren Appelbaum. The full programmatic team also includes RespectAbility's Vanni Le, Lesley Hennen, Molly McConville, Jacquill Moss, Leah Romond, and Isabella Vargas.
Meet the 2022 Lab Fellows here and to learn more about The Children's Content Lab visit the program's page on RespectAblility's website.