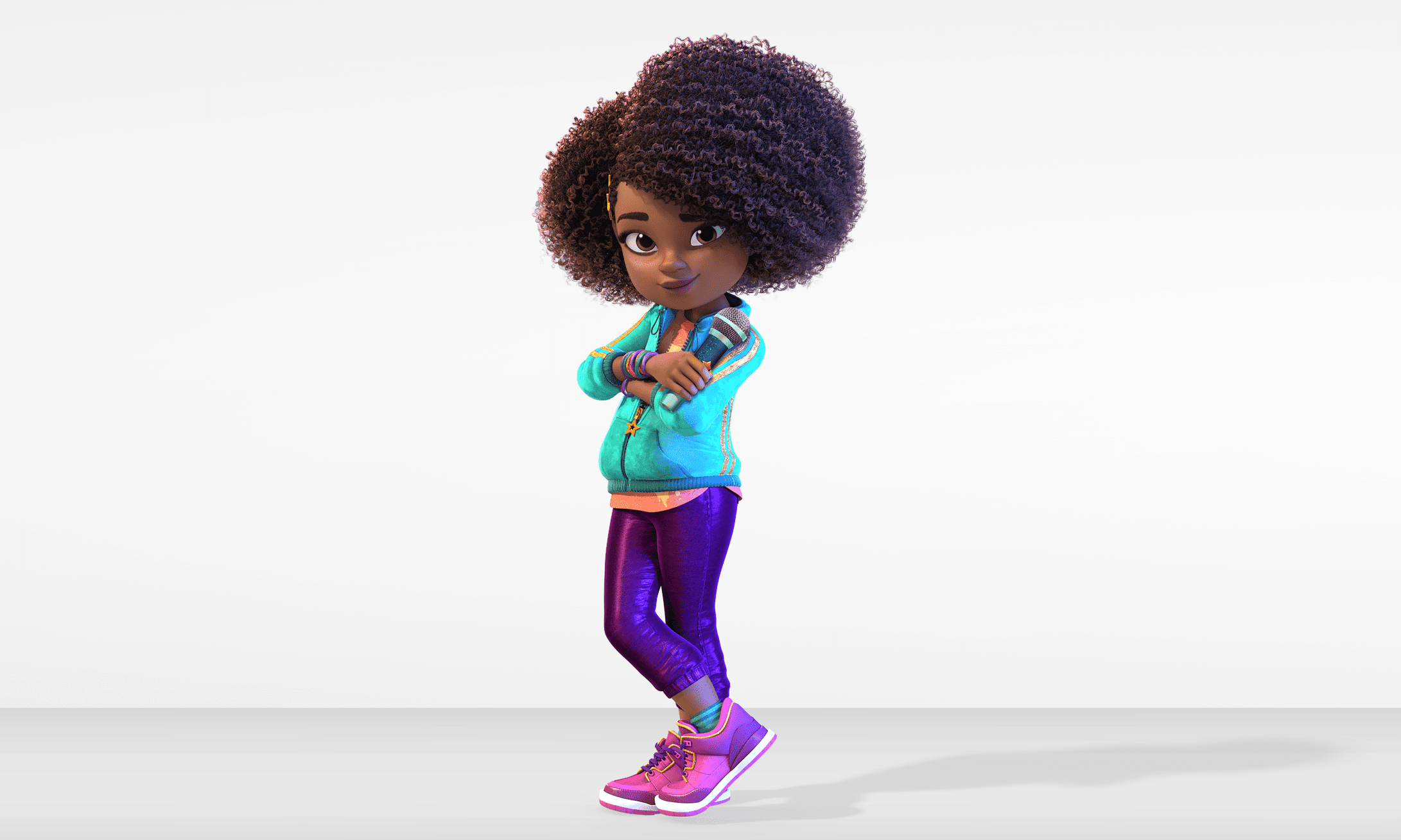 The deal was secured by 9 Story's dedicated brand management and consumer products division, 9 Story Brands, and will include chapter books, a picture book, and a guided journal
Toronto – March 22, 2021 – 9 Story Media Group and Karma's World Entertainment are pleased to announce a publishing deal with Scholastic, the global children's publishing, education, and media company, for Karma's World, the new CG animated series created by Chris Bridges and currently in production for Netflix. The deal was brokered by 9 Story's dedicated brand management and consumer products division, 9 Story Brands. Under the terms of the deal, Scholastic has secured global rights to the property across all storybook formats. Launching with the first book in January 2022, the program will include original chapter books for children ages 7 to 9, a picture book, and a guided journal. Scholastic will launch Karma's World SKUs in North America, the UK and Australia, with additional markets to follow.
Publishing in January and March 2022, the first two original chapter books will serve as companion stories to the Netflix series and bring aspiring rapper and hip-hop artist Karma Grant from the screen to the page. In the first book, The Great Shine-A-Thon Showcase!, Karma and her friends are totally stoked for the MC Grillz concert in their neighborhood, but when the famous rapper's bus breaks down and the show is cancelled, it's up to Karma to take the stage and put on her own concert with her friends. Filled with heart, humor, and Karma's rhymes, these original stories will be written by Karma's World head writer Halcyon Person.
The Scholastic program will also include a picture book co-authored by Chris Bridges and Halcyon Person, and a guided journal to be published in summer 2022. The picture book will follow a young Karma Grant as she writes her very first song for her dad on his birthday. The Karma's World books will be supported across Scholastic channels, including in the school market, and featured in the publisher's Power of Story catalog, which aims to uplift stories of historically underrepresented groups related to race, ethnicity, sexual orientation, gender identity, physical and mental abilities, religion, and culture.
"From the moment we saw the pitch deck, we knew we wanted to be the publisher for Karma's World," said Debra Dorfman, Vice President and Publisher, Global Licensing, Media and Brands for Scholastic. "We've been looking for a series like this with an encouraging message, a diverse and charismatic protagonist and a vibrant cast of friends. We can't wait to spotlight Karma's unique and powerful voice."
"We couldn't have found a better partner to work with on Karma's World, to create product extensions that provide unique opportunities for enhanced storytelling," said Kristin Lecour, Co-VP Consumer Products for 9 Story Brands. "We are thrilled to partner with Scholastic on this groundbreaking brand and collaborate together to bring the power of Karma's music and message to print."
"I am so proud of what we've been able to create with Karma's World," said Bridges. "It's been over a decade in the making and an important legacy that I want to leave for my daughters. Kids are going to fall in love with Karma, and I'm so excited to work with Scholastic to bring her message to even more kids around the world."
Created by multi-award-winning American rapper, actor, producer, entrepreneur and philanthropist Chris 'Ludacris' Bridges (Fast and Furious Franchise, Fear Factor, Crash), Karma's World is geared for children ages 6–9.  Originally inspired by Bridges' oldest daughter, the series is a coming of age story about a young Black girl finding her voice and using it to change her world. The series follows 10-year-old Karma Grant, an aspiring musical artist and rapper with big talent and an even bigger heart. Smart, resilient, and deeply empathetic, Karma pours her soul into songwriting, channeling her feelings into whip-smart rhymes with passion, courage and her signature brand of humor. In this series, Karma is only beginning to grasp the incredible emotional power that words and music can have. She doesn't just want to share her music with the world…she wants to change the world with it!
About 9 Story Brands
9 Story Brands is the dedicated brand management and consumer products division of 9 Story Media Group, a leading content creator, producer and distributor of kids and family focused intellectual property. 9 Story Brands builds international entertainment brands for kids, with expertise across creative, brand marketing and licensing. 9 Story Brands manages merchandising rights for top children's properties including Daniel Tiger's Neighbourhood, Clifford The Big Red Dog, Colorforms, Wild Kratts, Super Why and Karma's World. www.9story.com
About Chris Bridges
Chris Bridges, sometimes professionally known as "Ludacris" is a successful actor, producer, entrepreneur and philanthropist as well as one of pop music's most successful recording artists. Chris currently lives in Atlanta, Georgia. His love for his community led him to found The Ludacris Foundation (TLF), in 2001. This nonprofit organization seeks to inspire youth through education and memorable experiences and to uplift families and communities, while fostering economic development. For more information on TLF check out theludacrisfoundation.org.
About Karma's World Entertainment
Karma's World Entertainment, founded by Chris Bridges, is an entertainment media company dedicated to helping kids develop self-esteem, healthy living, creativity and leadership skills through fun music and problem-solving educational programs, with an appreciation for diversity.
About Scholastic
For 100 years, Scholastic Corporation (NASDAQ: SCHL) has been encouraging the personal and intellectual growth of all children, beginning with literacy. Having earned a reputation as a trusted partner to educators and families, Scholastic is the world's largest publisher and distributor of children's books, a leading provider of literacy curriculum, professional services, and classroom magazines, and a producer of educational and entertaining children's media. The Company creates and distributes bestselling books and e-books, print and technology-based learning programs for pre-K to grade 12, and other products and services that support children's learning and literacy, both in school and at home. With 15 international operations and exports to 165 countries, Scholastic makes quality, affordable books available to all children around the world through school-based book clubs and book fairs, classroom libraries, school and public libraries, retail, and online. Learn more at www.scholastic.com.