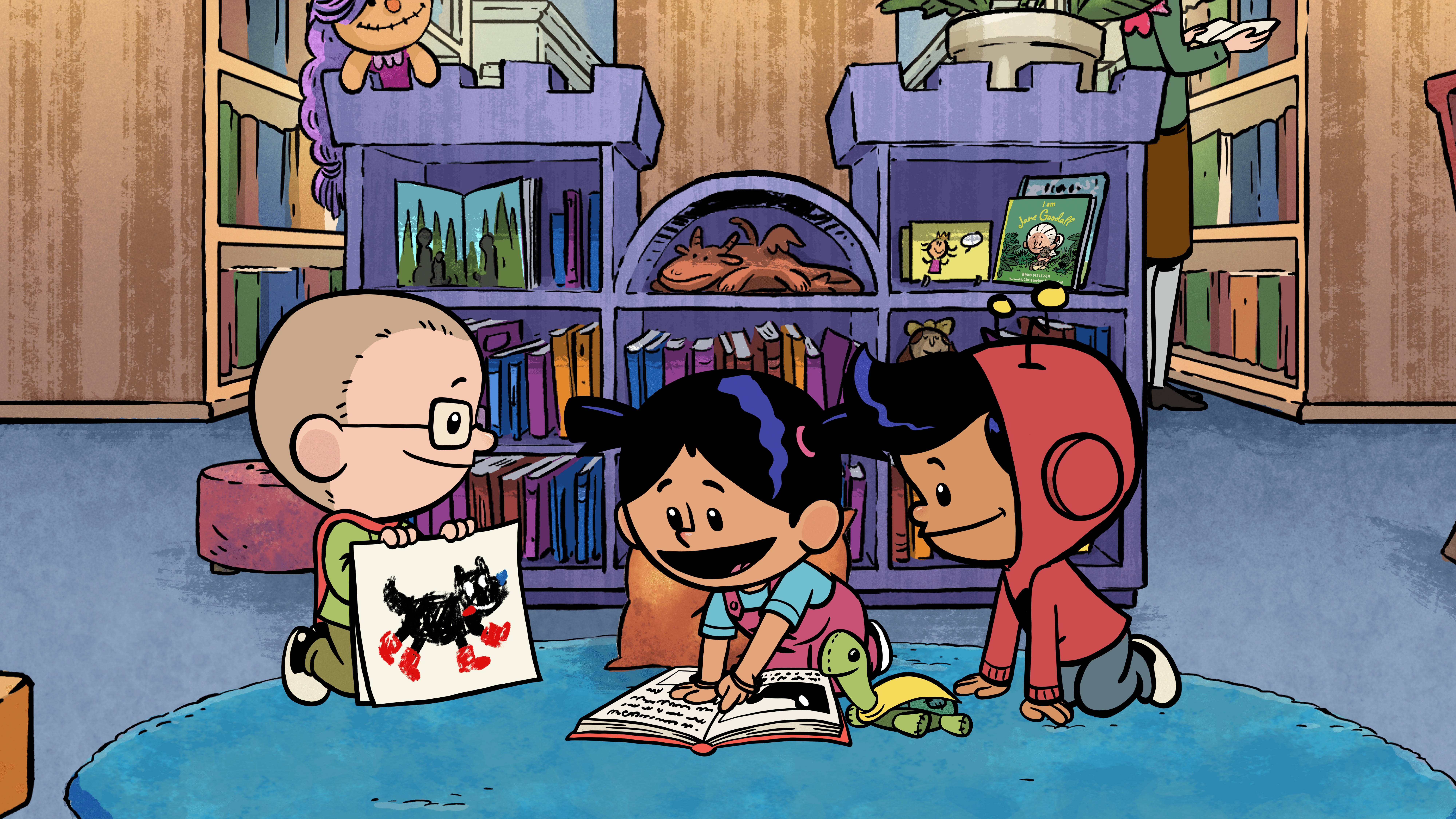 NEW YORK – January 21, 2020 – 9 Story Brands announced today that it has named Penguin Young Readers as global publishing partner for the new animated series Xavier Riddle and the Secret Museum, which is based on the New York Times bestselling Ordinary People Change the World series written by Brad Meltzer and illustrated by Christopher Eliopoulos. Penguin will be releasing Storybooks, Leveled Readers and Sticker Activity Books, with the first books set to launch in Spring 2020. The Spring launch will feature three new releases, which will all go on-sale April 14th, 2020: I Am Susan B. Anthony (8×8 Storybook), I Am Cleopatra (Leveled Reader) and I Am Harry Houdini (8×8 Storybook). The Ordinary People Change the World series will reach an exciting milestone with the 20th book, I Am Leonardo da Vinci, which will also go on-sale April 14th, 2020.
Xavier Riddle and the Secret Museum is an animated adventure series, which goes back in time to meet real-life historical figures when they were kids. The series premiered on PBS KIDS in November 2019 and TVO Kids this past December. During its U.S. debut, Xavier Riddle and the Secret Museum emerged as one of PBS KIDS' top programs on TV and digital platforms, reaching 3 million children on PBS TV stations in its first six weeks on-air and streamed more than 41 million times across PBS KIDS' owned digital platforms since its premiere (Source: Nielsen NPOWER L+7, 11/11/19-12/22/19, K2-11, Series & Spcls Reach, 75% unif, 1+ min; Source: Google Analytics Nov '19 – Dec '19). The series has also recently been nominated for two Annie Awards, including Best Writing – TV/Media and Best TV/Media – Preschool.
Xavier Riddle and the Secret Museum follows the adventures of Xavier Riddle, his younger sister Yadina and their friend Brad. In each episode, the three face a problem and must turn to the Secret Museum to help them solve it. The Secret Museum allows the three friends to travel back in time to meet real-life historical figures when they were kids. The series takes a fresh approach to teaching kids ages 4-7 about important historical figures and the experiences that shaped their lives, while exploring social emotional concepts and character traits such as courage, resilience, and setting and accomplishing goals.
Produced at Brown Bag Films' Toronto studio, executive producers on the series are Vince Commisso, Brad Meltzer, Christopher Eliopoulos, Fonda Snyder and Rob Weisbach. The series is directed by Cory Bobiak (Peg + Cat), with Meghan Read (Dot, Dino Dan) in the role of executive story editor. The look of the show is based on Christopher Eliopoulos' illustrations featured in the Ordinary People Change the World series.
9 Story Distribution International has worldwide distribution rights outside Canada, while 9 Story Brands is managing global licensing and merchandising rights.
About Brad Meltzer:
Brad Meltzer is the #1 New York Times bestselling author of Heroes for My Son, Heroes for My Daughter, a dozen suspense novels like The Escape Artist, and non-fiction books like The First Conspiracy. He is also the host of the History Channel television shows Brad Meltzer's Decoded and Brad Meltzer's Lost History (which he used to help find the missing 9/11 flag). He is the co-creator of Xavier Riddle and the Secret Museum – and of course, the inspiration for Brad. He lives in Florida with his wife and their three children.
About Christopher Eliopoulos
Christopher Eliopoulos began his illustration career at Marvel Comics, and has worked on thousands of comics, including Cosmic Commandos, Monster Mayhem, Franklin Richards: Son of a Genius, Pet Avengers, and Cow Boy, all of which he wrote and illustrated. THE YAWNS ARE COMING!, Christopher's first picture book as both author and illustrator, goes on-sale April 28th, 2020. He lives in New Jersey with his wife and their identical twin sons (when the boys are home from college).
About 9 Story Brands
9 Story Brands is the dedicated brand management and consumer products division of 9 Story Media Group, a leading content creator, producer and distributor of kids and family focused intellectual property. 9 Story Brands builds international entertainment brands for kids, with expertise across creative, brand marketing and licensing. 9 Story Brands manages merchandising rights for top children's properties including, Daniel Tiger's Neighbourhood, Moon and Me, Colorforms, Wild Kratts, Clifford the Big Red Dog and Luo Bao Bei. www.9story.com
About Penguin Random House
Penguin Random House, the world's largest trade book publisher, is dedicated to its mission of nourishing a universal passion for reading by connecting authors and their writing with readers everywhere. The company, which employs more than 10,000 people globally, was formed on July 1, 2013, by Bertelsmann and Pearson, who own 75 percent and 25 percent, respectively. With nearly 275 imprints and brands on six continents, Penguin Random House comprises adult and children's fiction and nonfiction print and digital English- and Spanish-language trade book publishing businesses in more than 20 countries worldwide. With over 15,000 new titles, and more than 600 million print, audio and eBooks sold annually, Penguin Random House's publishing lists include more than 80 Nobel Prize laureates and hundreds of the world's most widely read authors.