Calling all Creature Adventurers, get ready to embark on more thrilling animal adventures because an all-new season of Wild Kratts premieres today on PBS KIDS. Brace yourselves for extraordinary new expeditions featuring Chris and Martin and the whole Wild Kratts team as they head off in the Tortuga to explore the wonders of the animal kingdom like never before. 
Season 7 of the animated adventure series will kick off with four new episodes that will see the Wild Kratts being outfoxed by some furry new friends, traveling to the Great North to learn more about symbiotic relationships, racing to great heights while exploring about different habitats along the way, and having a real 'hoot' of time on a long journey home.  
Outfoxed – Airs Monday, May 22, 2023 (PBS KIDS)
Description: While playing with acorns in his Squirrel Creature Power Suit, Chris gets caught and carried off by a red fox. The gang must track Chris and the fox down with Aviva's new Sniff-Tracker 1000 invention, but the fox is also being tracked by Gourmand. Mother fox must try to outfox everyone in order to get home to feed her super hungry (and super cute) fox kits.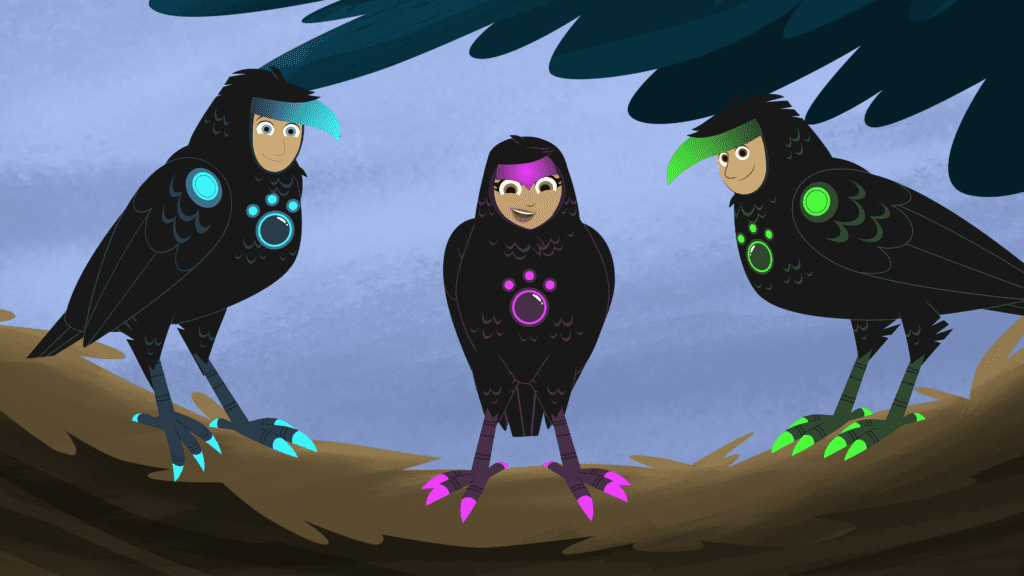 Clever the Raven – Airs Tuesday, May 23, 2023 (PBS KIDS)
The Tortuga is parked in the Great North and some strange noises have Koki thinking it's time for a diagnostic overhaul. As they are near Little Howler's pack territory, the bros decide to try to find the wolf pack. Unexpectedly, a raven joins Martin and Chris on their adventure and the brothers soon learn about the incredible intelligence and ingenuity of the raven. 
Race to Goat Mountain – Airs Wednesday, May 24, 2023 (PBS KIDS)
Chris and Martin, off to explore mountain bio-zones of Goat Mountain, bump into Paisley Paver. Paisley reveals her hideous plans for a development dubbed "Asphalt Ascent".  The brothers are horrified. Thinking fast, Chris challenges her to a race to the top of Goat Mountain. Whoever gets to the peak first decides the future of the mountain ecosystem. Is there any creature in these steep slopes and dizzying heights who can help Chris to victory? Enter the mountain goat!
Owl Odyssey – Airs Thursday, May 25, 2023 (PBS KIDS)
When the Wild Kratts get marooned and lost a world away from the Tortuga, they must embark on a long journey home. The gang finds inspiration in several owls that they encounter along the way. As owls live on every continent except Antarctica, Aviva thinks it must be a sign. She has enough supplies and power to make one creature power suit – and one only – and ultimately it's up to owl power whether or not they ever get back home. 
Wild Kratts is a critically acclaimed animated children's television series that combines live-action footage, animation, and educational content. The show follows the adventures of animated versions of real-life brothers, Chris and Martin Kratt, as they travel to different habitats around the world to learn about and protect various animal species. Wild Kratts stands out for its educational value, as it provides scientific information about animals, their habitats, and the importance of conservation. The show also fosters an appreciation for wildlife and encourages viewers to respect and protect the natural world. Wild Kratts was created by the Kratt brothers, Chris and Martin, and produced by The Kratt Brothers Company and 9 Story Media Group. The award-winning series is also animated by 9 Story's Oscar nominated studio Brown Bag Films out of their Toronto location. Wild Kratts launched on PBS KIDS in 2011. 
Season 7 of Wild Kratts now airing on PBS KIDS promises to be an epic celebration of wildlife, education, and adventure. Prepare for exciting animal encounters, excellent inventions, important messages of conservation, and of course, plenty of Wild Kratts signature fun.  
Now grab your Creature Power Suits and let the exploration begin! 
Want more Wild Kratts?
Check out Wild Kratts on PBS KIDS in the US and TVOKids and Knowledge Kids in Canada
See exclusive clips, behind the scenes and more on YouTube!  
Follow Wild Kratts on Social: