Kidscreen Summit is back! This year's global market and children's media industry conference kicks off today and runs to July 21st at the InterContinental in Miami, USA. Kidscreen Summit brings together creators, distributors, and buyers of kids programming for meaningful business networking opportunities, pitching sessions, and an incredible curated program of panels featuring industry leaders who are driving trends and change in kids' entertainment. 
Catch 9 Story's President & CEO Vince Commisso on the panel discussion Mastering M&A: Looking at the current buying spree with a kid's industry lens. This session is taking place on Tuesday, July 19th, 2022, from 10-10:45 AM in the InterContinental Miami Bayfront Ballroom.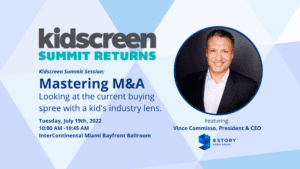 Mergers & acquisitions are at an all-time high, with companies of all shapes and sizes beginning to explore their options. In this panel session, industry leaders, including 9 Story's Vince Commisso, will discuss the different factors that are impacting market dynamics, their predictions for the world of M&A in 2022, and ways to identify upcoming challenges and opportunities.  
Vince Commisso is not the only 9 Story team member speaking at this year's Kidscreen Summit! Attendees will also have the opportunity to meet Karen Fowler, 9 Story's VP of Development and Production.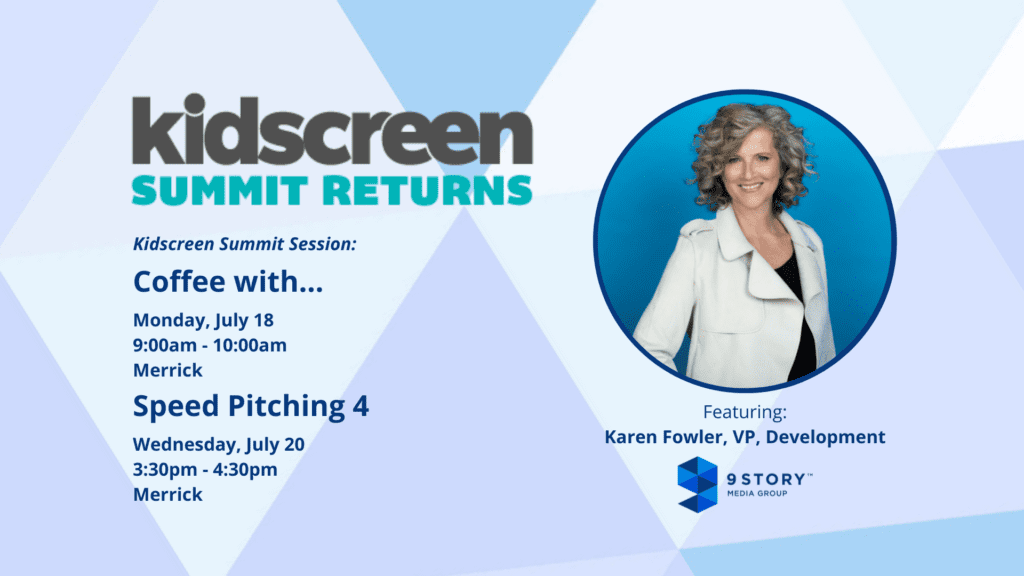 On Monday July 18th from 9am-10am, Karen will be available for the Kidscreen Summit 'Coffee With…' event, giving people the opportunity to sign up to meet with her one-on-one in 15-minute networking sessions.  
You can also connect with Karen during the Summit Speed Pitching sessions, where you can spend eight minutes giving your perfect elevator pitch to someone with the power to greenlight your project. Karen will be participating in Speed Pitching 4, happening on Wednesday, July 20th from 3:30pm-4:00pm. 
Kidscreen Summit is an amazing opportunity for people in the kid's entertainment space, presenting 4 days of networking opportunities, panels, presentations, and more. For more details on sessions with both Vince Commisso and Karen Fowler, you can click here. 
Event Details  
DATEs:

July 18-21, 2022

 

VENUE:

InterContinental Miami, Bayfront Ballroom, 100 Chopin Plaza, Miami, FL, 33131 USA