The Daytime Creative Arts Emmy Awards Ceremony took place this past Friday, May 3, 2019 at Pasadena Civic Auditorium. 9 Story and Brown Bag Films combined were nominated for a total of 20 awards–a new record!
We had 12 members of our team attend the awards ceremony. They all stepped out onto the red carpet looking great!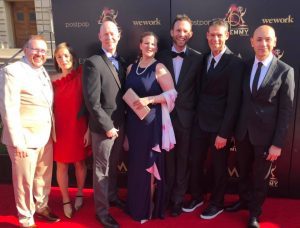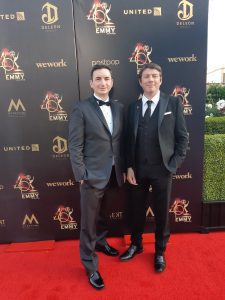 We are thrilled to announce the three winners of the night:
Daniel Tiger's Neighborhood for Outstanding Preschool Children's Animated Series
Vampirina for Outstanding Sound Editing for a Preschool Animated Program
Peg + Cat for Outstanding Original Song in a Children's or Animated Program with "Making a World with My Friend"
Congratulations to all who have contributed to these amazing shows and on their well-deserved Emmy award!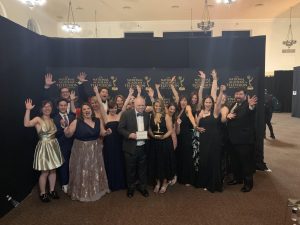 In her post-win interview, Angela Santomero, 9 Story's Chief Creative Officer, spoke a little bit about what Daniel Tiger's Neighborhood means to her and why the award for Outstanding Preschool Children's Animated Series is particularly special. You can watch the full interview here.
"I was that super fan. I was that 4-year-old that couldn't sit closer to the TV when Mr. Rogers was on. So the idea of creating a series in his legacy was a huge honour"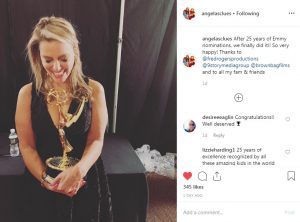 After the ceremony, the team attended a 9 Story/Brown Bag Films after party. Sarah Wallendjack, VP Production & Development shared that, "Clients, fellow nominees, and winners drank wine and champagne, and snapped photos with the statue. It was a great night that will stay with us forever."
The Monday following the awards ceremony, celebrations continued with cake and treats served to the entire team at the 9 Story New York location!
We would like to once again, congratulate all of the winners and nominees. Until next year!
For the full list of Daytime Creative Arts Emmy Awards winners, click here.