Throughout Luna's many travels adventures, she and her friends like to indulge in the traditional foods of each country they visit. Today, we're sharing a few of the most popular dishes from places Luna and the Circo Fabuloso crew have visited!
Each dish includes a link to a special recipe that you and your little adventurer can spend quality time in the kitchen preparing. Check them out, below!
Butter Chicken
Origin: India
Butter Chicken is a rich, creamy dish made with tomato paste. Full of flavor, you can make your butter chicken on the spicy side or mild for your little ones. For the vegans and vegetarians of the world, try a delicious alternative like butter cauliflower! For a recipe on how to make these yummy traditional Indian dishes, click here and here.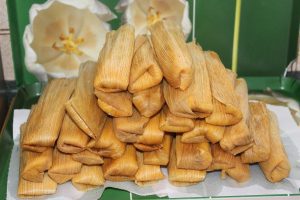 Tamale
Origin: Mexico
Tamale is a Mexican food steamed in a corn husk or banana leaf. You can modify this dish to be vegan, vegetarian or full of delicious meats. Check out this amazing recipe to make tamales at home for the whole family to enjoy!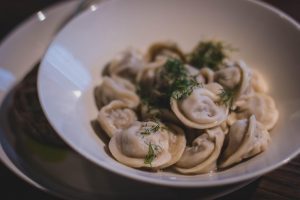 Dumplings
Origin: China
Dumplings are a fun option when you and your little one want to get creative in the kitchen! There are endless options of what you can fill them with – from pork to shrimps, veggies and more! For a delicious dumpling recipe, click here.
Blini
Origin: Russia
The Blini is a Russian pancake you can enjoy either savoury or sweet. The crepe-like pancake can be filled with sweet jams and cheeses, or you can try the classic smoked salmon version! To find an easy recipe for you and your little adventurer, click here.
Now that you've learned about all these drool-worthy recipes from around the world, it's time to mix things up in the kitchen and try something new for dinner.
We would love to see how your meals turned out, share your photos with us on the Let's Go Luna social pages. Bon Appétit!