Get your pickle chips ready, because
Karma's World
Season 4 is officially here and ready for streaming! 
We're so excited this newest season of Karma's World is finally on Netflix, filled with brand-new adventures with Karma and her family and friends. From dealing with her first fan, to facing her first real villain, Season 4 has a ton of amazing stories that Karma's World fans are going to love.  
To get the inside scoop on Season 4, we spoke with Karma's World head writer Halcyon Person to hear about her work on the season, and the moments she's most excited for the world to see.  
Let's get into it:  
Is there anything from this newest season that you worked on that you are most proud of?  
It's so hard to choose a favorite moment in a season jam packed with so much fun and adventure! It's a struggle to choose between the hilarious action-packed moments — like when Karma takes on a mysterious stinky smell plaguing the community center — and the drama-filled jaw dropping moments, like when Switch promises her brand new beat to Karma and her biggest rival Crash.  
But one moment in particular [that] always comes to mind when I think of what I'm proud of [is] the scene where Keys, his dad, and Mr. Crawford talk about racism in "Keys, The Inventor." I'm proud of this moment because it's a beautiful, poignant, and moving moment between three generations of Black men. I'm proud because Dad's advice to Keys, "don't listen to the hate, listen to the love" resonates with me, and everyone who has been made to feel less than because of their identity. 
I'm incredibly proud of our brilliant Senior Story Editor Keion Jackson, who approached the topic of racial profiling with care, complexity, and thoughtfulness, crafting a scene with humor and heart, as well as a powerful message. Most of all I'm proud of our series for "going there" and telling the kinds of stories kids need, but don't always see on their screens. 
Do you have a favorite episode from this newest season? If so, what is it?  
Again, it's so hard to choose! But if I had to pick a favorite, I think I'd pick the three-part season finale, "Save the Center." These episodes see the debut of CeCe Dupree, a flashy, famous pop star who comes to Hansberry Heights to save the Community Center — but watch out, 'cause she might actually be too good to be true. Played by the incomparable Keke Palmer, CeCe is as hilarious as she is wicked, and absolutely one of my favorite characters we've ever had on the show.  
These three episodes are also so compelling to me because they see Karma coming full circle from the song she sang in our very first episode (forty episodes ago!) and show how she's grown as a rapper, friend, and community member. Chock full of delicious villainy, jaw-dropping dramatic twists, and a nail-biting conclusion, I'm hoping fans of Karma's World everywhere love the finale as much as I do!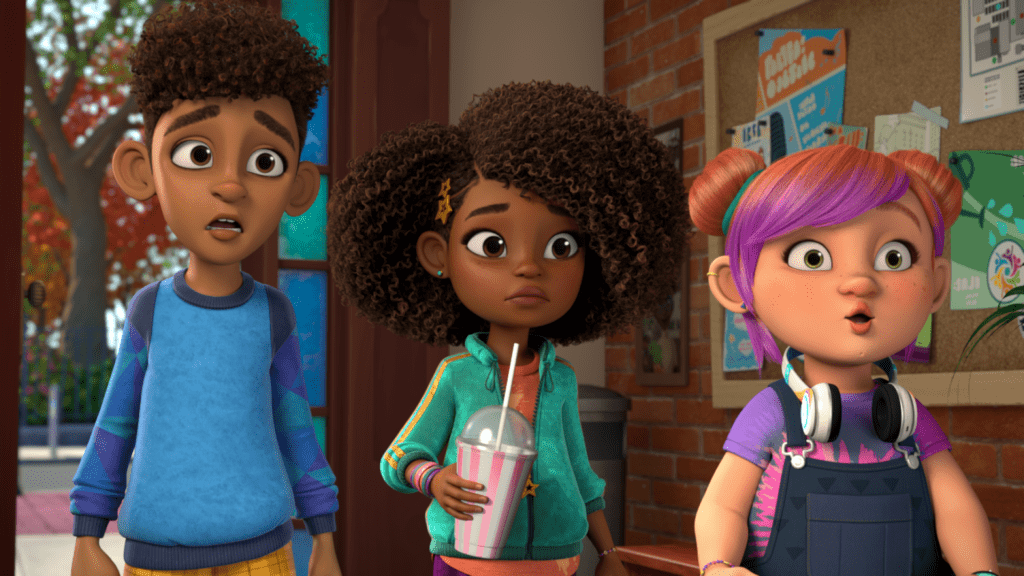 What do you hope fans can take away from Karma's World Season 4?  
I hope that, above all else, fans take away the message that there is incredible power in community. Whether that's the community of your family, who can support you through the tough times and celebrate you during the good times; or your friends, who you can collaborate with to make awesome things; or your neighbors, who you can band together with in solidarity to take on injustice. 
Throughout Season 4, Karma again and again shows just how powerful people are when they come together and work for the common good, rather than selfishly for themselves. Right now this feels like a message we could all take to heart, and I love that our series has the platform to share it with kids around the world. It's a simple idea — we're stronger together than we are apart, and we are what we need to make the world a better place — but we could all use that reminder once in a while. 
Ready to watch
Karma's World
Season 4? Brand-new episodes are now streaming on Netflix! 
Keep up to date with all the exciting news and updates from Karma's World be sure to follow on social: