Our brand-new series Rosie's Rules has officially been launched on PBS KIDS, and we couldn't be more excited to introduce kids to this amazing new show. 
The series follows the adventures of Rosie Fuentes, a 5-year-old Mexican American girl who is starting to learn all about life with her blended, multicultural family by her side. As Rosie learns new lessons she shares her "rules" about life with viewers, teaching kids how to navigate their world. 
Alongside the launch of the show, Rosie's Rules has also put out two wow-mazing games, Slime Store and Riding with Rosie, on the PBS KIDS website. These two games are exploding into popularity, introducing tons of kids to the world of Rosie's Rules.  
To get the inside scoop on these games and their creation, we spoke with 9 Story's Vice President of Interactive, Alex Breen! Read on below to learn all about how these amazing games came to be. 
Tell us about the creative process for the
Rosie's Rules
games,
Slime Store
and
Riding with Rosie
. How did it begin?
For our Slime Store and Riding with Rosie games we collaborated with Curious Media, a talented game developer based in Idaho, and PBS KIDS Digital. We kicked off both games back in February 2022 and launched them on PBSKIDS.org and the PBS KIDS Games App in September 2022.  

Each Rosie game is grounded in preschool play and covers [the] core Social Studies category of the show's curriculum, while also showcasing Rosie's signature learn-by-doing approach and humor. Celebrating family tradition, community and culture is a big component of both games too! 
Can you tell us more about the
Slime Store
game, and how it fits into the wider
Rosie's Rules
world? 
In our Rosie's Slime Store game, kids get to run a supertastical slime store with Rosie, inspired by an episode that will appear later in the series. We designed this game to cover numerous economic concepts across multiple episodes in one really fun play experience, where kids can practice and learn about supply and demand through organic play.   

Players help Rosie get her slime store ready to open, make their own slime creations, take custom orders from Rosie's family, run the cash register, and buy or trade for more slime supplies from Javi's supply shop.  We had a lot of fun with the items and colors players can use to make slime, with preschool staples (like googly eyes), specific things tied to Rosie's family members (like bunny stamps for Gatita) and cultural ones (like Sugar Skulls for Día de Muertos).  We'll also be updating Javi's supply store across the year with special seasonal items and fun easter eggs from the show!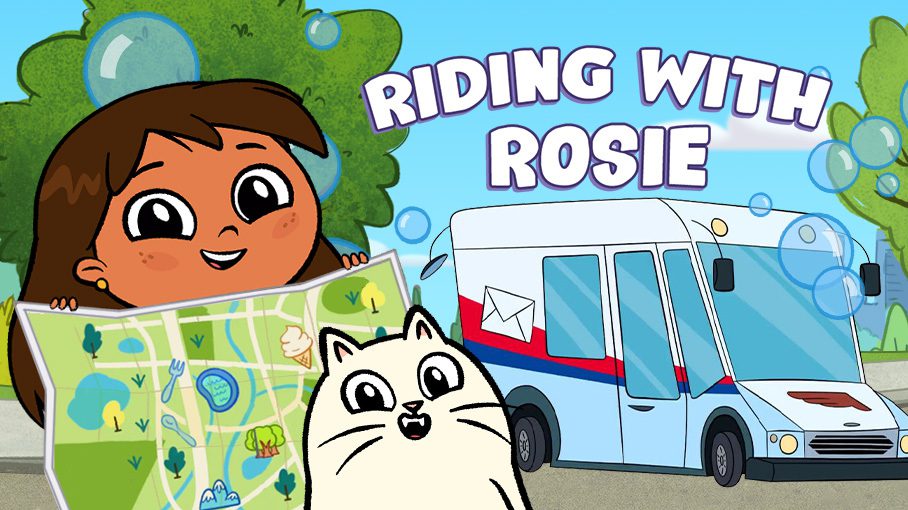 What about the game
Riding with Rosie
?
In our Riding with Rosie game, we built out Rosie's entire neighborhood and beyond in an exciting top-down immersive map experience. From the Fuentes house to the post office and community center, to apartment buildings and the town strip, all the way to the Nature Center, beach and airport. Kids can engage with an expansive map, symbols, a variety of vehicles and important jobs to help Rosie manage story-based missions (like making donations) and neighborhood services (like collecting and delivering recycling and mail) to keep things in her town running smoothly.  

We've designed this game to encapsulate multiple storylines and key curriculum takeaways from the series, with fun seasonal and cultural story missions inspired by episodes to roll out across the year! 
What are you most proud of when it comes to the creation of the
Rosie's Rules
games?
Our interactive team has been SO inspired to expand on all of the amazing aspects of the Rosie's Rules series and has put a lot of passion and heart into every detail of these games.   

In addition to delivering very fun, layered, and satisfying play experiences in both English and Spanish, I'm really proud of how accessible these two games are for younger and older players.  We worked really hard with Curious Media and PBS KIDS digital to create unique and intuitive play experiences that balance guided and open-ended play, as we know kids have many styles of play. 

Playtesting was an integral aspect of the development process as we shaped both games, and it was also rewarding to see co-play with siblings and inter-generational play, with parents and grandparents getting involved in the fun!  
What do you hope kids will take away from these games when playing them?
So many things. Like Rosie, our audience is just beginning to make sense of their lives at home, as well as a very big and complicated world beyond their doors.   

Our hope with both Slime Store and Riding with Rosie is to help players engage in these new concepts (like economics, geography, transportation, civics, and being good citizens) in safe, relatable, and playful game experiences, while modeling the celebration of themselves, people in their lives, and their greater community!  
A supertastical congratulations to our 9 Story Interactive team, PBS KIDS, and Curious Media who have come together to make something incredible.
If you'd like to play Slime Store or Riding with Rosie, you can visit the Rosie's Rules Games page on PBSKIDS.org. Make sure you enjoy the other Rosie's Rules activities available on PBSKIDS while you're there!
You can also watch brand-new episodes of Rosie's Rules now! Check local playtimes for PBS KIDS, or use the PBS KIDS Video App or PBSKIDS.org to watch today.