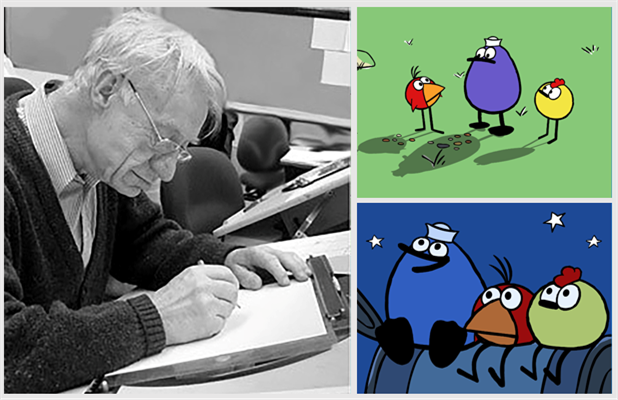 The animation community recently lost the beloved Danish-born Canadian animator, Kaj Pindal. He is best known for his Academy Award-nominated short, What on Earth! (1966) and the National Film Board short, Peep and the Big Wide World (1988). The latter inspired and led to the successful animated television show under the same name, which premiered in 2004 and received a Daytime Emmy for Outstanding Children's Animation Program in 2005.
This unfortunate loss hits close to home at 9 Story Media Group, as Peep and the Big Wide World was the first television show to be produced, at what was then, 9 Story Entertainment.
"We had the pleasure of working with Kaj on our very first show, which helped get the company going. Kaj was passionate about animation as a medium that liberated artists to tell stories. Animators are actors, storytellers, and visual artists and could compel audiences with those skills delivered by the screen" – Vince Commisso, CEO
"Thank-you Kaj Pindal for creating Peep and the Big Wide World! It was an absolute joy to work on such an excellent series, simple in style yet complex and intelligent on so many levels. It's the reason I'd started here at 9 Story. My condolences to his family, they must be truly proud of the legacy he has left with us. His brilliance and infectious smile will be greatly missed." – Jen Sherman, Episodic Director on Blue's Clues & You
"Kaj was a great teacher to me, and we had the great pleasure of learning from him and working with him on Peep. His great sense of wit and humour will be missed and remembered by many including me" – Heejung Yun, Assistant Director on Clifford
"I never met him personally, but animating with his designs was one of the most beautiful experiences. Because his designs were so simple, it was really easy to get into each character and spend more time focusing on the acting" – Cory Bobiak, Creative Director (Toronto)
"Kaj was my Professor at Sheridan. I remember when I showed him a very early draft of my short film as an animatic. The short was an action adventure with a lot of fighting and fast cutting. After the screening I remember him just sitting there thinking. Finally after about 45 seconds I ask him what did he think. He looked at me and in that classic Kaj way he said, " There is so much going in such a short time… by the time it ends… I am still at the beginning." And that was all he said. I have used that advice up to this very day. I always remember to give time to tell the story and it is OK to slow it down sometimes. I will miss him" – Bill Tedford, Art Director on Daniel Tiger's Neighborhood
We will continue to remember the great contributions that Kaj Pindal made to the animation community, as well as to the development of 9 Story Media Group and Brown Bag Films.