We are thrilled to share that "Daddy and Me and the Rhyme to Be," the latest book based on the popular animated Netflix series Karma's World, has been chosen as a Common Sense Selection and honoured with their Families seal. The Common Sense seal program recognizes exceptional media, learning tools, and advocacy for families. Common Sense Selection seals are awarded to select books, movies, TV shows, and other media with the potential to affect learning, spark family conversations, entertain families of all types, and/or make a significant, lasting impact on individuals or on culture as a whole.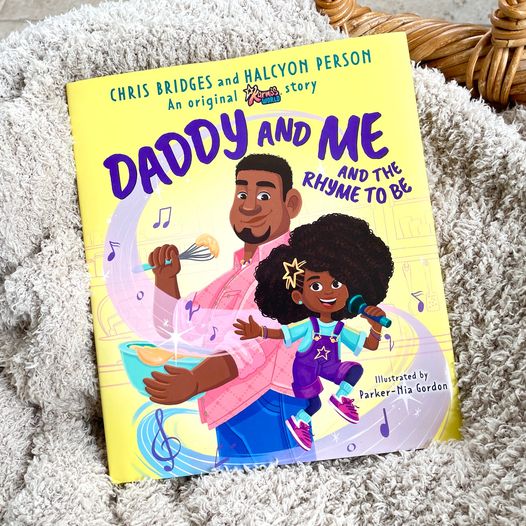 Co-authored by Karma's World visionary Chris "Ludacris" Bridges and the show's Head Writer Halcyon Person, "Daddy and Me and the Rhyme to Be" is a humorous and heartwarming picture book about the special bond between father and daughter. Along with the upbeat wordplay, the book is brought to life by the colorful illustrations of Parker-Nia Gordon. Told with humor and heart, the story follows Karma as she sets out to write her daddy a rap for his birthday all on her own, the only thing is she can't quite make it perfect. Thankfully, Karma soon realizes that she never has to do anything alone as long as she has daddy by her side. This heartwarming story is an entertaining read for the whole family and a loving celebration of the bond that unites fathers and daughters around the world.  
"Vivid and vibrant, Daddy and Me and the Rhyme to Be delivers on fun wordplay, adorable illustrations, endearing characters, and positive diverse representations, making it a fine addition to the Karma's World brand." – via Stephanie Snyder, Common Sense Media 
As a girl dad himself, Chris Bridges (sometimes known as @Ludacris) has the perfect story to read with dad (or mom, grandma, grandpa…): Daddy and Me and the Rhyme to Be!

Learn more here: https://t.co/hdvjwtUtnq @KarmasWorldHQ @halcyonperson #FathersDay pic.twitter.com/bTpkjqtUJo

— Scholastic (@Scholastic) June 16, 2022
We would like to extend a huge congratulations to Scholastic, our Karma's World publishing partner, on this special achievement. Scholastic is the world's largest publisher and distributor of children's books and trusted by parents and educators around the globe for their focus on encouraging the personal and intellectual growth of all children, beginning with literacy. 
Finally, a special celebratory shout-out goes out to "Daddy and Me and the Rhyme to Be" co-authors Chris Bridges and our 9 Story Head Writer Halcyon Person on their incredible work. We love it when your rhymes shine! 
It's such an honour to see this new title from Karma's World being recognized alongside some of the most entertaining and high-quality books for families shared on the Common Sense platform. We look forward to more people around the world discovering the joys of Karma's World through the colourful pages of this new read, and learning from Karma's enriching, relatable and positive stories. 
"Daddy and Me and the Rhyme to Be" is the fourth title in a new series of books based on the groundbreaking show Karma's World, now streaming on Netflix. The animated hit is produced in partnership with our Emmy Award-winning 9 Story Creative Affairs Group as well as Karma's World Entertainment, Chris Bridges's production company. The series was animated in Dublin and Bali by our Oscar® nominated studio Brown Bag Films. Karma's World, created by Alison McDonald and Halcyon Person, follows Karma Grant, an aspiring musical artist and rapper with big talent and an even bigger heart.  
Read the full review of "Daddy and Me and the Rhyme to Be" on the Common Sense Site
 and check out the
Karma's World
book series via the Scholastic website
here
. Stream
Karma's World
seasons 1-2 along with featured music videos from the show, now on Netflix.