We're so excited to announce that The Karma's World Core Fashion Doll Assortment was named a 'Top Holiday Toy' by The Toy Insider.
Launched in July 2022, this show stopping collection features dolls of your favourite characters, Karma, Switch, and Winston from the animated series Karma's World. Each doll comes in an outfit from the show, carefully designed by New York's Fashion Institute of Technology, with signature accessories including Karma's microphone, Winston's camcorder and Switch's headphones. There is also a range of Karma doll playsets that include iconic show locations like Karma's stage, the community juice bar, or the recording studio!
The dolls were also featured on Amazon's 'Toys We Love' list this year, with the Karma's World Styling Head Accessory making The The Toy Insider's 2022 Top Toy Trends: As Seen on Screen list.
Developed by Chris "Ludacris" Bridges in partnership with 9 Story Media Group, Karma's World was created with the intention of furthering inclusion on screen for kids, sharing the story of a young girl who uses her talent and heart to change her world for the better. We're so proud of this series for creating diverse representations for kids around the world, an intention that's carried over into this new range of Karma's World products.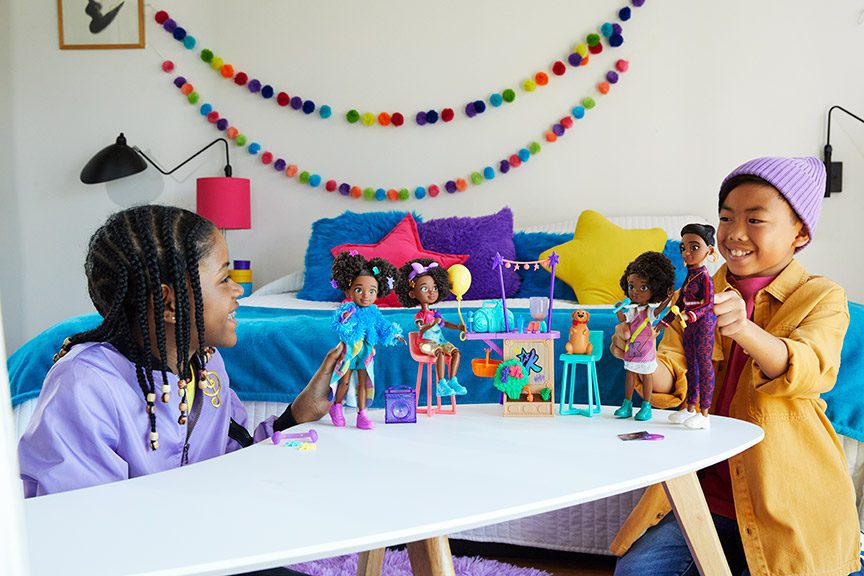 If you'd like to own a piece of this incredible collection, Karma's World products can be found in store in the US (Target, Walmart), Canada (Toys R Us, Walmart, select Loblaws, Indigo Online). They're also available across Ireland and the United Kingdom (Smyths, George at ASDA). You can order online too on Amazon, or on the official Mattel website.
Season four of "Karma's World" is currently streaming on Netflix.
Keep up to date with all the exciting news and updates from Karma's World be sure to follow on social: