Our big debut is nearly here! The highly anticipated, one-of-a-kind Karma's World toy line from Mattel is hitting shelves this Sunday, July 17.  
Last April, 9 Story Brands, Karma's World Entertainment and Mattel joined forces in a multi-year global licensing deal for Karma's World, giving Mattel the global rights to develop a line of toys for the popular franchise, which would include items like dolls and doll accessories, role play, plush toys, styling heads, and much more.  
Today we have the pleasure of sharing a VIP sneak peek behind the scenes at some of the new Karma's World products dropping this Sunday.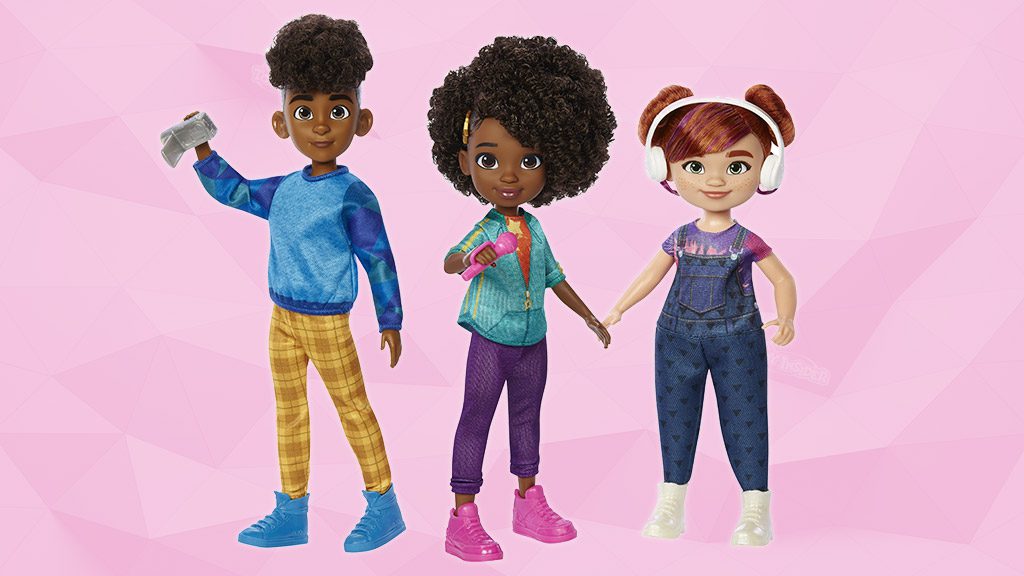 Kids are going to love the Karma's World Core Fashion Doll Assortment, which features Karma, Winston, and Switch dolls priced at 21.99.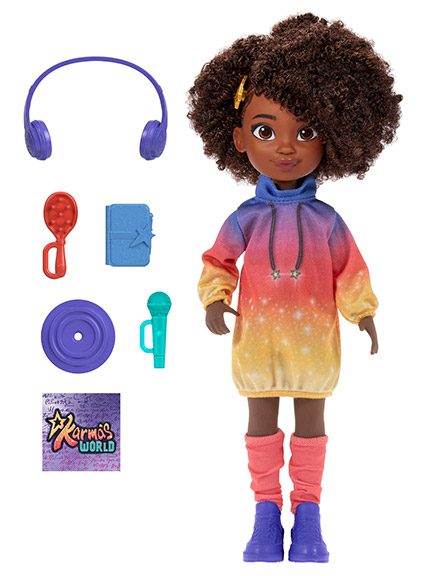 Mattel is also releasing a Karma's World Singing Star Karma Doll. Priced at 24.99, this doll sings a rap from the show, and includes a unique outfit and show-inspired accessories.  
And finally, the Karma's World styling head first teased at this year's Essence Fest by the real-life Karma, Karma Bridges, and series Head Writer Halcyon Person, will also be included among the many beautiful toys in Mattel's empowering collection launching this weekend. Get a closer look at the Karma's World styling head in action in this excellent video piece created by Leyha Williams from Howard University, featuring Karma's World Head Writer and Co-Executive Producer Halcyon Person:
We are EXPANDING THE KARMA'S WORLD UNIVERSE!

Our @Mattel styling head doll featured in this video along with additional dolls will be available on July 17th in-store at @Target and online at @Walmart .com and @Amazon!

🎥 Credit: Leyha Williams from Howard University pic.twitter.com/d8cjZWHU8h

— Karma's World (@KarmasWorldHQ) July 9, 2022
We are thrilled to see these products come to life and we can't wait for everyone to see the brilliant work Mattel has done translating the Karma's World brand into a line of must-have toys. But most of all, we really can't wait for all our Karma's World fans around the globe, who have been calling out for toys from day one, to finally get to engage with these products in real life 
This is the cutest show!!!! My daughter keeps asking for a Karma doll.

— Lindsay | Paperclips & Confetti (@LindsaySatmary) March 22, 2022
Watching Karma's World! Where can I buy a Karma doll and boom box for my daughter?

— Sunshine&Smiles☀️ (@Blessed501) November 28, 2021
Developed by Chris "Ludacris" Bridges in partnership with 9 Story Media Group, Karma's World is a series that follows 10-year-old aspiring rapper Karma Grant as she uses her talent and heart to inspire her friends, family and community. As a show about a young Black girl who is finding her voice and making a change with it, Karma's World is bringing diverse representation into the world, both on the big screen and in the world of toys.   
🎵Let's comb it out, let's brush it down, let's get creative with a style or two!🎵

Introducing the Karma's World Styling Head available on July 17th —> @Mattel pic.twitter.com/ycCG5VRodt

— Karma's World (@KarmasWorldHQ) July 5, 2022
The Karma's World product line will begin rolling onto shelves of national retailers throughout the US (Target, Walmart, Amazon and more) and Canada (Toys R Us, Walmart, Indigo online, Amazon and select Loblaws) on Sunday, July 17. Across Ireland and the United Kingdom, the toys will also launch on July 17 at Smyths and ASDA, with apparel and accessories available at George.
Season three of "Karma's World" is currently streaming on Netflix. 
Keep up to date with all the exciting news and updates from Karma's World be sure to follow on social: