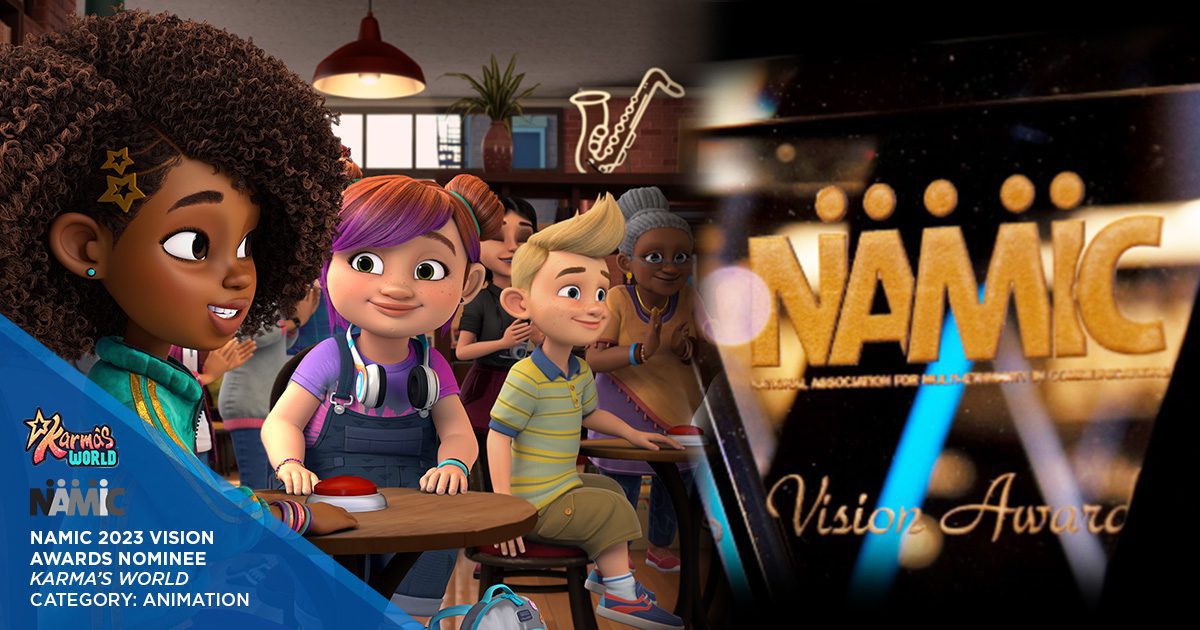 🎶 Volume UP!
🎶
We are thrilled to share that Karma's World, our game-changing animated series, has been nominated for a 2023 NAMIC Vision Award in the category of Animation. This recognition is a significant achievement for the show-stopping brand and a testament to our team's incredible work creating the show's authentic storylines, compelling world, engaging characters and catchy soundtrack.   
The National Association for Multi-ethnicity in Communications (NAMIC) is a non-profit organization that advocates for diversity, equity, and inclusion in the media and entertainment industry. For nearly three decades, NAMIC's annual Vision Awards have brought recognition and honor to distinguished programming that reflects the diversity of the global viewing audience and raises the standards for diverse programming. 
This year Karma's World was recognized in the NAMIC Vision Awards category of Animation, along with four other exceptional series, including Craig of the Creek – Cartoon Network, More Than I Want to Remember – MTV Entertainment Studios, Star Trek: Lower Decks – Paramount+, and The Proud Family: Louder and Prouder – Disney+. 
Karma's World, which premiered on Netflix in 2021, is an animated series produced in partnership with 9 Story's Emmy Award-winning Creative Affairs Group as well as Karma's World Entertainment, Chris Bridges's production company and animated by our award-winning studio Brown Bag Films. The series, created by Alison McDonald and Halcyon Person, follows Karma Grant, an aspiring musical artist and rapper with big talent and an even bigger heart. Smart, resilient, and deeply empathetic, Karma pours her soul into songwriting, channeling her feelings into whip-smart rhymes with passion, courage and her signature brand of humor. In this series, Karma is only beginning to grasp the incredible emotional power that words and music can have. She doesn't just want to share her music with the world…she wants to change the world with it! 
One of the goals of Karma's Worlds was to create a series for kids that celebrates diversity, breakdowns stereotype and promotes inclusion and acceptance. It is a tremendous honour to see the series included amongst the talented 2023 NAMIC Vision Awards nominees, a list of creators who are all committed to producing content that promotes positive social change.  
We want to extend a big congratulations to Chris Bridges, our entire Karma's World team and to our partners at Netflix! We are so proud of all the amazing work our teams have achieved on the show and will keep our fingers crossed for our always inspiring Karma on awards night!  
The 2023 NAMIC Vision Awards winners will be announced in May. 
You can stream all 4 seasons of Karma's World now on Netflix!