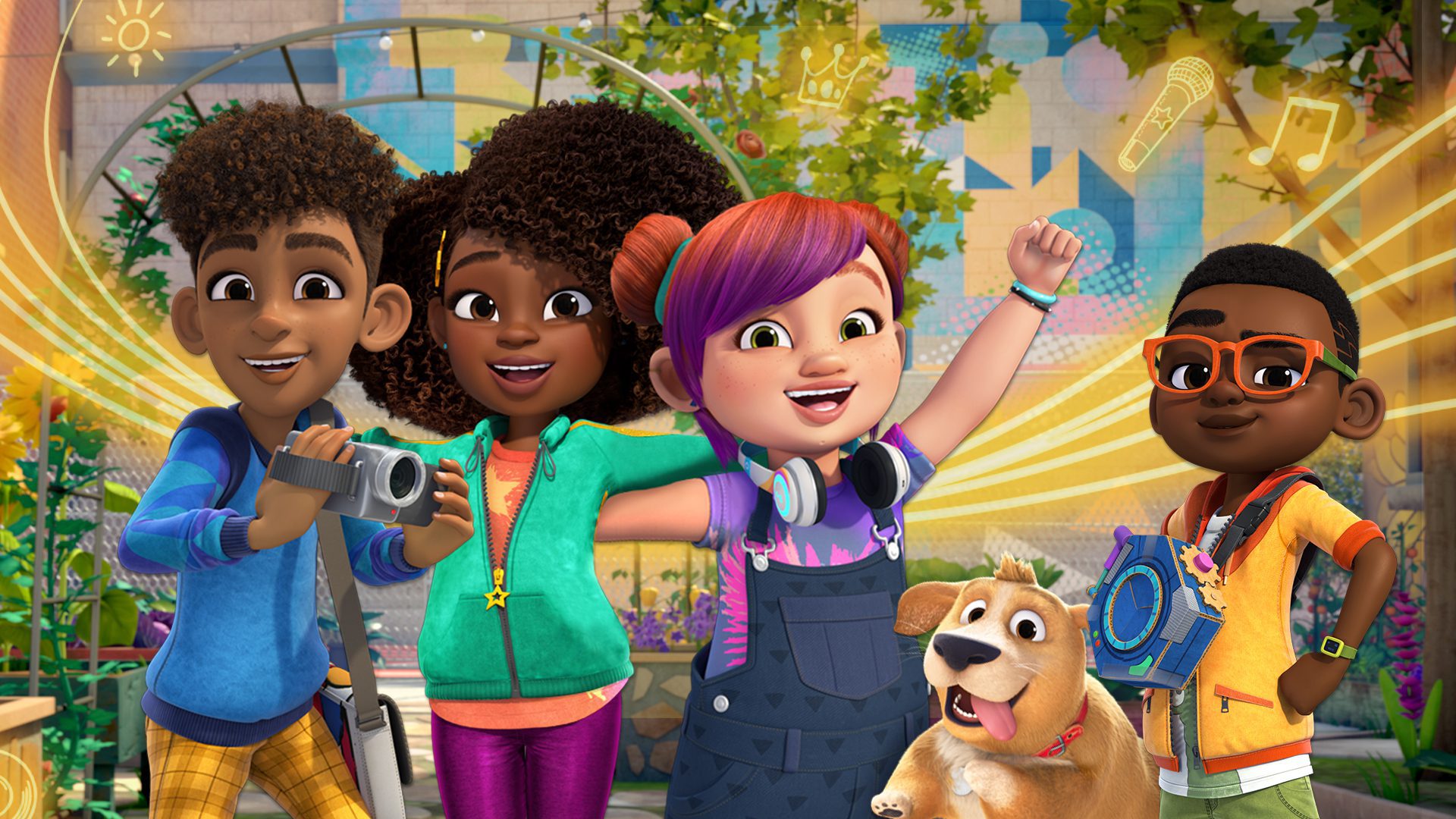 We're super excited to announce that Season 3 of
Karma's World
is officially here and streaming on
Netflix
! 
Season 3 of Karma's World will feature 9 brand new episodes with Karma and her crew, touching on a number of important issues. This season has a focus on using your voice to stand up for what's right, with episode themes that include creative self-expression, accessibility, peer pressure, protest, sibling dynamics, and much more.  
Here's a breakdown of what's to come this season:  
Fancy Footwork: Karma and Winston are excited for an upcoming sneaker drop, raising funds to buy their own pairs—but what happens when they can only afford one? 
Sneakerheads: When Winston paints a custom pair of sneakers, he's heartbroken when his teacher and Karma agree sneakers aren't art. Karma will have to learn to open her mind and see that art can come in many different forms! 
Schoolyard Showdown: When Winston and Chris get into a heated fight, Karma and Crash find themselves trying to settle the feud, teaching their friends not to give into peer pressure.  
The Go Girls: After learning about her mom's favorite girl group, Karma decided to form her own! But when the usually quiet Demi Ray gets all the attention, Karma needs to learn how to share the spotlight.  
School Spies: When Carrie forms a new school club, Karma forms a club of her own. But soon these clubs begin to snoop for each other's secrets, with Karma learning a huge one about Carrie…  
Abuelita's Protest: When Winston's Abuelita can't access the school stage because of her wheelchair, Karma and Winston start a protest. However, the protest doesn't center on Abuelita's needs, leading Karma and Winston to learn how to better listen and amplify the voices of others. 
Friendship in a Flash: Karma gets paired with Sam for a writing project and learns Sam has dyslexia. Karma thinks she's helping by doing all the work, but soon realizes that Sam can do work in her own way, leading Karma to learn how to make room for Sam's work style.  
Moms on Strike: When Karma, Switch, and Winston attempt to go on strike to protest new chores, their mom's all go on strike instead. The trio quickly realizes just how much work their moms do, and why it's important to show appreciation for it.  
Brotherly Love: Karma and Keys are not seeing eye to eye, and then find themselves locked inside the Community Center. Together they have to find a way to get out in time for open mic night… and find a way to get along.
You can get a taste of what to expect by watching the Season 3 trailer here:  
Karma's World is produced in partnership with 9 Story Media Group and visionary Chris "Ludacris" Bridges and beautifully animated by Brown Bag Films. It follows Karma Grant, a 10-year-old aspiring rapper who uses her talent and heart to inspire her friends, family, and community.  
This series includes a ton of incredible talent, with voices from Asiahn Bryant, Danielle Brooks, Chris "Ludacris" Bridges, Tiffany Hadish, Dascha Polanco, Jordan Fisher, Dawnn Lewis, and more. 
Karma will continue to channel her amazing rhymes and signature style of humor all throughout Season 3 of Karma's World, streaming NOW on Netflix!
Keep up to date with all the exciting news and updates from Karma's World be sure to follow on social:
• Instagram • Facebook • Twitter • YouTube •
SEASON 3 IS OFFICIALLY HERE 🎉

How many episodes have you watched? What's your favorite so far?

We can't wait to hear from you! 💜#KarmasWorld #Netflix #WatchParty pic.twitter.com/HsD40drDor

— Karma's World (@KarmasWorldHQ) July 7, 2022