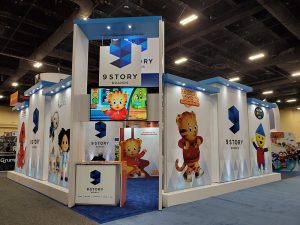 It was our second year exhibiting at Licensing Expo and things keep getting better and better! Our 9 Story Brands Team came out in full force, displaying some of our most successful brands on our show stopping booth. We had visits from Daniel Tiger, Luna and even Joshua from Blue's Clues and You stopped by! Beyond that, we met with our existing partners including Scholastic, Hasbro, Jakks Pacific and Penguin, and a number of soon to be new partners.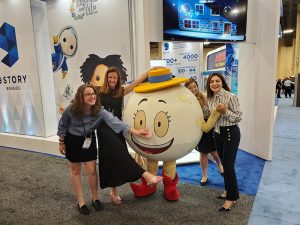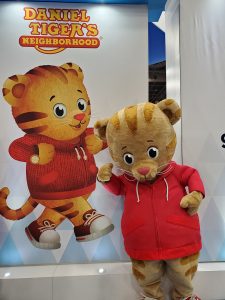 Kristin Lecour also hosted the Annual Women In Toys Licensing Show Breakfast, which was attended by over 150 key executives in the Licensing Business. It was a great networking opportunity and provided a lot of visibility for the 9 Story Brands Team!
Our MVPs of the week were Maddy Feiner and Kayla Latham! Kayla was a first time attendee, and helped spearhead set-up and worked the front desk. Here's what she had to say about her experience:
"I was excited to be able to take part in my first Licensing Expo. There were over 1000 attendees representing different companies and brands from across the globe. I was surprised by the amazing booth displays, including our own 9 Story booth; it looked fantastic. Daniel Tiger, Luna, and the Colorforms mascots stopped by our booth, and took pictures with the attendees, who were very excited to see them. It was also a plus to be able to spend some time in Las Vegas!" – Kayla Latham, Distribution Coordinator
Overall, it was a really successful market for the Brands Team, and we can't wait to return next year!