Calling all Xavier Riddle and the Secret Museum fans! Today we are super excited to share that brand-new Xavier Riddle plush toys are now available from Mighty Mojo Toys.  
Xavier Riddle and the Secret Museum is a PBS Kids series from 9 Story Media Group and Brown Bag Films. Based on the popular kids book series, Ordinary People Change the World by Brad Meltzer, the show follows the adventures of Xavier, Yadina, and Brad, three friends who travel through time to learn from famous heroes of the past.  
These plush toys will allow Xavier Riddle fans to play out their own historical adventures with plush toys of their favorite time-travelling trio! 
In this lineup, you'll find individual plush toys for Xavier, Yadina and Brad. These are soft, huggable plush toys, standing 10" tall, machine washable, and perfect for kids.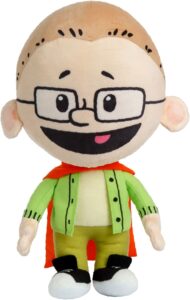 There's also a plush toy bundle available, so you can buy all three characters at once! Perfect for any Xavier Riddle fan looking to collect the entire trio.  
If you'd like to learn more about these new toys, and purchase your own, they're available at Mighty Mojo, Amazon, and PBS! 
If you're looking to enjoy even more Xavier Riddle and the Secret Museum content, be sure to tune in and check your local listings on PBS Kids! You can also watch episodes at PBSKids.org and on the PBS Kids Video App.