We are thrilled to share that Karma's World and Hello Jack! The Kindness Show have both been nominated in the Children & Youth genre of the 2022 Rockie Awards! 
With a 43-year legacy, the Rockie Awards recognize excellence in global television and digital content. Entries from more than 55 countries compete each year, and winners are selected by an international industry jury of 150+ senior entertainment and media professionals.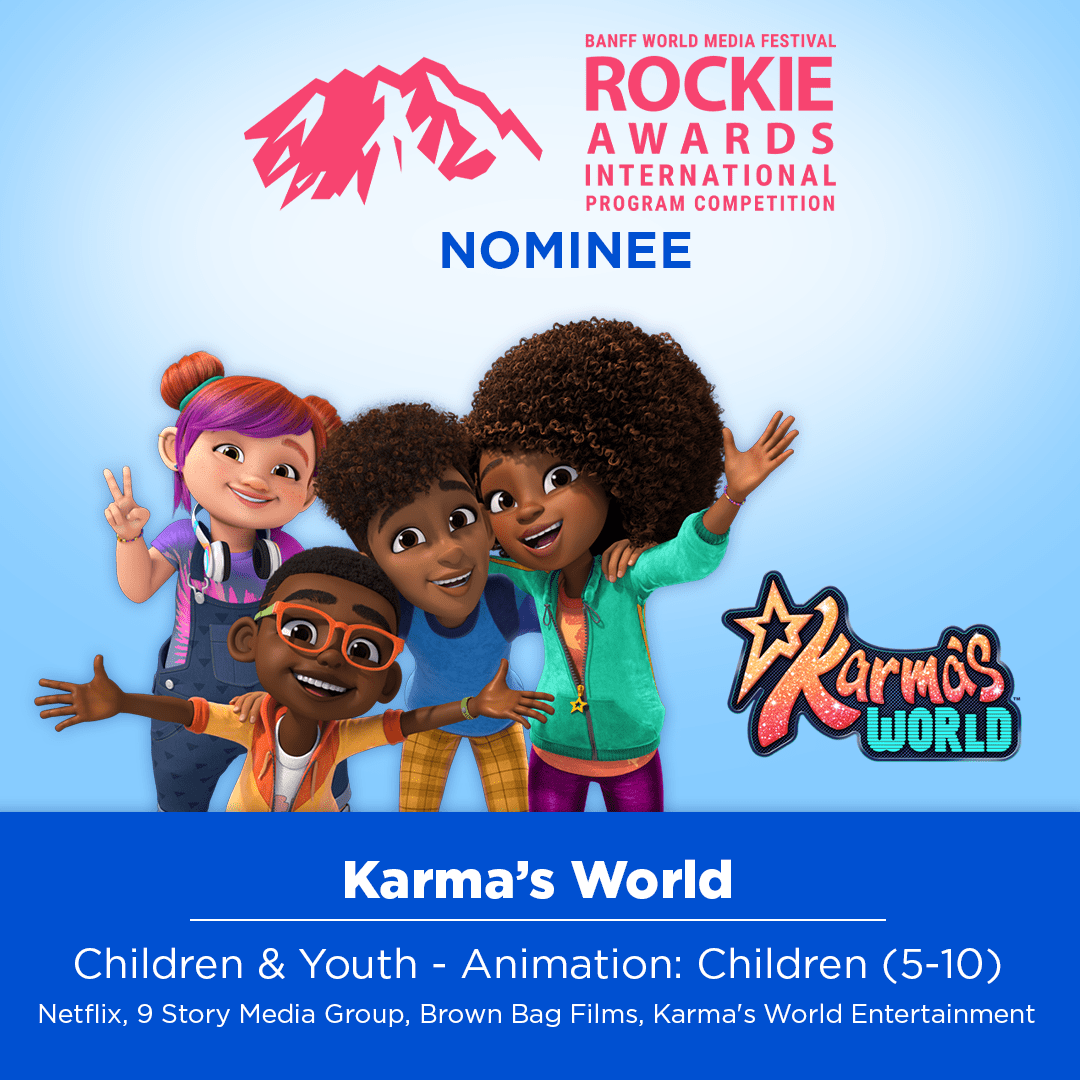 Karma's World was nominated in the Animation: Children (5-10) category, going up against Kamp Koral: SpongeBob's Under Years (Nickelodeon Animation Studio), LEGO Star Wars Terrifying Tales (Lucasfilm LTD, LEGO, Atomic Cartoons), Middlemost Post (Nickelodeon Animation Studio), and The Brilliant World of Tom Gates (TG Entertainment Ltd., Wild Child Animation, Black Camel Productions). 
Karma's World, our groundbreaking animated series that premiered on Netflix in fall 2021, is produced in partnership with our Emmy Award-winning 9 Story Creative Affairs Group as well as Karma's World Entertainment, Chris Bridges's production company. The series was animated in Dublin and Bali by our Oscar® nominated studio Brown Bag Films. Karma's World, created by Alison McDonald and Halcyon Person, follows Karma Grant, an aspiring musical artist and rapper with big talent and an even bigger heart. Smart, resilient, and deeply empathetic, Karma pours her soul into songwriting, channeling her feelings into whip-smart rhymes with passion, courage and her signature brand of humor. In this series, Karma is only beginning to grasp the incredible emotional power that words and music can have. She doesn't just want to share her music with the world…she wants to change the world with it!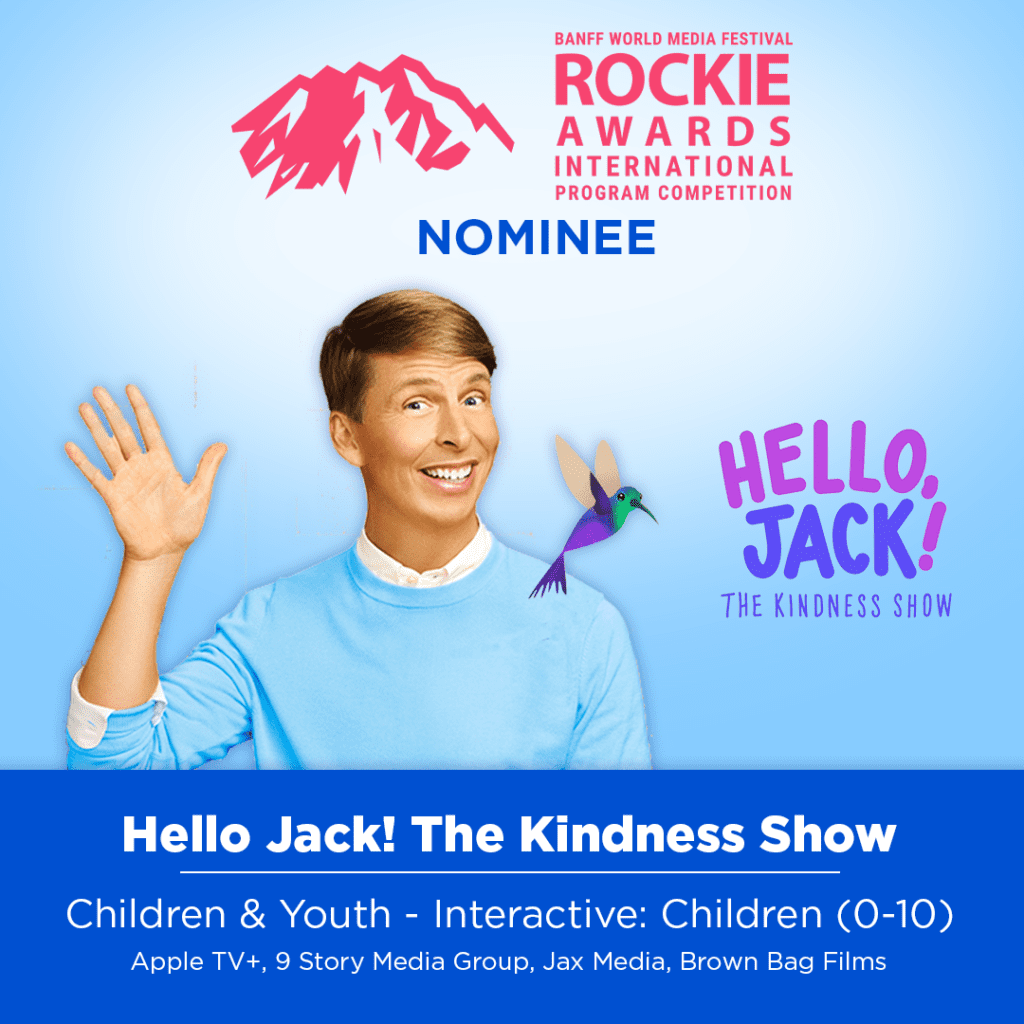 Hello Jack! The Kindness Show was nominated in the Interactive: Children (0-10) category, alongside Brainstream (National Film Board of Canada), AATOAA, CBC Kids Tokyo 2020 Olympic (Website CBC Kids), Hypersurge), Oddbods Busy Bodies (One Animation Pte Ltd), and The Last Kids on Earth (Atomic Cartoons). 
Hello, Jack! The Kindness Show was co-created and executive produced by Jack McBrayer and our very own 9 Story CCO Angela C. Santomero. The series was produced by 9 Story Media Group, with animation by Brown Bag Films – Toronto, with Wendy Harris and Vince Commisso serving as executive producers. Emmy Award-winner Guy Toubes served as showrunner. Junlei Li, the Saul Zaentz senior lecturer in early childhood education at the Harvard Graduate School of Education, served as the Kindness and Human Connection Expert on the series. Anchored around Emmy Award-winner Jack McBrayer's infectious positivity and playful humor, Hello, Jack! The Kindness Show invites preschoolers into a world where a little act of kindness can change the world.  The series showcases stories where acts of kindness are shown through "The Three C's" – caring, connecting, and cascading kindness from one person to another. The series also features original songs from the Grammy Award-winning band, OK Go. 
A huge congratulations to our nominated productions and partners, and to everyone involved in bringing these series to life. We would also like to extend a warm round of applause to all this year's Rockie Awards nominees. 
The 2022 Rockie Awards will be presented in a live ceremony on June 13, the second day of this year's Banff World Media Festival. The festival is expected to return to in-person attendance for this year's event, which runs from June 12 to 15.
To see the full list of 2022 Rockie Awards nominees click here.