Looking for some imaginative craft adventures and activities to help engage all the Let's Go Luna fans in your life? Well, look no further! We've curated a family-friendly round-up of Luna-related activities from the PBS KIDS Parents site, which are sure to inspire your children to get creative! Plus, not only are these projects are a great way to entertain your little ones at home, but they can also help to encourage hands-on learning beyond the classroom.
From musical instruments constructed out of cardboard to a Safari inspired game of hide-and-seek, there's an activity for everyone to enjoy no matter what their interest is. Get ready to explore!
When Carmen was travelling to Delhi, India, she learned that there are many unique stringed instruments including one called the Sitar. This activity is a great way to encourage your child to express themselves through music and art!
In five easy steps, your child can make a guitar out of simple materials found around your house. Proud of their homemade instrument? Snap a photo and share it with us on Facebook, Instagram or Twitter. We'd love to see how it turned out!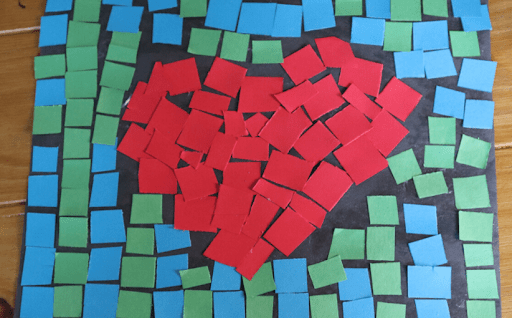 When exploring Rio de Janeiro in Brazil, Andy learned about making great art in unique places with simple materials. He was inspired by the work of Jorge Selaron, who turned an old staircase into a beautiful mosaic by covering it with over 2,000 tiles! 
In this activity, invite your child to make a mosaic. A mosaic is essentially a picture or pattern produced by arranging together small pieces of materials. Creating a mosaic is a great calming activity as it requires planning and patience. It's also a great way to explore colours and shapes. 
A fun and easy idea would be to use multi-colour sticky notes to create a mosaic. This masterpiece can be done on a piece of cardboard, a wall or even a window. This activity can be done with a friend or a family member and is a great way to bring your little one's imagination to life!
You don't have to travel around the world to experience the excitement of going on safari. Help your child practice their observation skills at home with this twist on the game of hide and seek.
When exploring Kenya, Luna takes the kids to Nairobi National Park. They embark on a safari photo tour in search of an elusive rhinoceros. They learn that going on safari is all about observing animals in their natural habitat!
This activity can be done by using cardboard tubes, such as paper towel rolls, cutting, glueing and painting them to look like animals in the wild. Add googly eyes or felt materials as a nice finishing touch! To achieve the full effect of being on safari, start by discreetly placing your animals in the "wild." Place the paper towel tube animals in unexpected but highly visible places like countertops or hiding amongst clothes in a drawer.
Decide who will be the Guide and who will be the Photographer; kids can switch roles later too. Gather a camera (or smartphone) and embark on a tour to see the local wildlife at home. The Guide can carry a pair of DIY binoculars made from leftover cardboard. This is a great activity that will get kids having fun for a whole afternoon and will help foster their 'wild' imagination!
Be sure to check out PBS.org for many more at-home activities with Luna! 
Join Luna and her friends on more travel adventures via PBS KIDS and the PBS KIDS mobile app from your own home! Be sure to follow along for more adventures on Facebook and Instagram. Share your experiences learning with Luna on social media and tag #LearnWithLuna!
Until our next travel adventure!