Each month we take the time to highlight some of the amazing historical heroes that we meet in the Secret Museum and the lessons we've learnt from the amazing things they did to impact our world today. Although the series wouldn't be the same without these famous heroes, we also can't forget about our favorite adventurers – Xavier, Yadina and Brad. And don't forget about Berby!
This month, we want to teach you more about our favorite adventurers just in time for you to try the new 'Which Xavier Riddle Character Are You?' Instagram filter!  Now you can find out which adventurer is most like you on our social media channels! Now you can find out which adventurer is most like you on our social media channels!
MEET THE CHARACTERS!
Xavier Riddle 
"Ready for an adventure?" 
Xavier Riddle is our adventurous history buff who is always curious about the world around him! Xavier enjoys sharing interesting information about the heroes they meet with his friends. He has a goofy sense of humour and loves to get a laugh from those around him, but can also be insensitive without realizing it. 
You can always recognize Xavier Riddle with his red hood and unique yellow bobbles. But did you know, those bobbles can translate whatever the kids say into any language in the world! This helps the trio understand anyone they visit along their journeys to the Secret Museum.
Xavier Riddle is described as a kid who loves EVERYTHING, especially art and basketball. If you had to pick two of your favorite things – what would they be?
Yadina 
"I can do it even if it's never been done before!"
Yadina is Xavier's younger sister who is always up for an adventure. Yadina is an extrovert and can be a natural defender of those who are being treated unfairly. If you are being mean, Yadina will let you know that your behavior is wrong! She can come across as a confident, precocious young girl who loves to share puns even though they don't always make sense. 
Yadina always rocks her pastel blue T-shirt, overalls and adorable pigtail scrunchies! You will never see Yadina without her best friend Dr. Zoom the stuffed turtle. Though this may seem like just a regular stuffed turtle, Yadina always makes sure to tell us exactly what Dr. Zoom is thinking! Dr. Zoom sports a bright yellow cape that can also act as a parachute when flying through the air. According to Yadina, Dr. Zoom loves plants, especially lettuce, grass and spinach. 
Yadina has BIG aspirations! Did you know that Yadina wants to be the President of the United States when she grows up? In the episode I Am Eleanor Roosevelt she refers to the White House as "my future home: I plan to be president and this is where the president lives". What is your BIG dream when you grow up? You can do anything if you put your mind to it! 
Brad
"Has anyone seen my crayon utility belt?"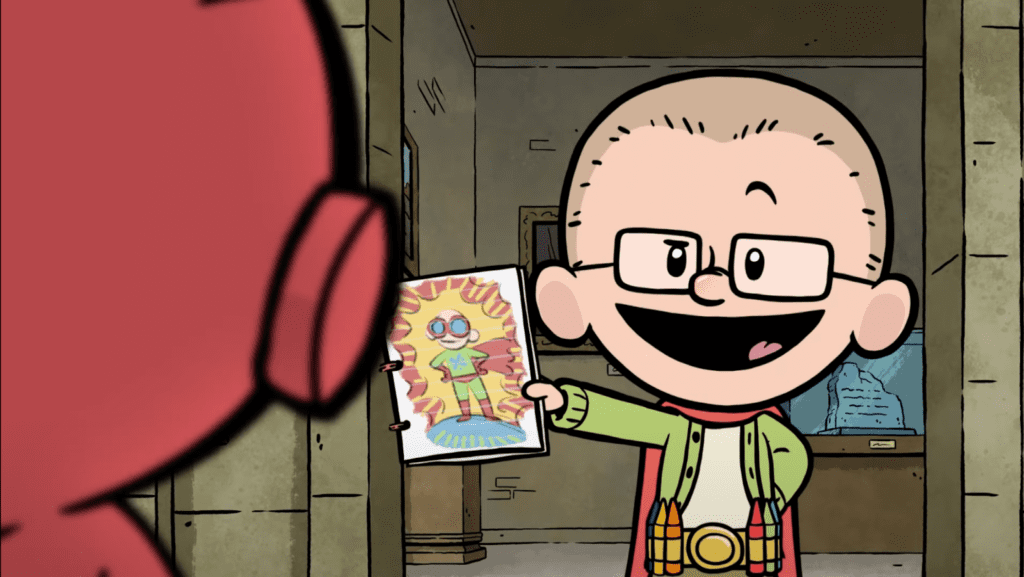 Brad is Xavier's best friend that joins along for all of their adventures to the Secret Museum! Unlike Xaiver and Yadina, Brad is our more anxious and sensitive character who is more cautious of new adventures! Brad loves comics, graphics novels and superheroes! Just like some of his favorite superheroes, Brad wears a bright red cape. Xavier and Yadina always encourage Brad to live a little and try new things.
Brad suffers from allergies, but not butterflies and action heroes which are his two favorite things. Sometimes on their time-traveling adventures, Brad can feel temporarily dizzy depending on how far they go! 
With a love for drawing and comics, Brad is writing his own graphic novel whose hero is called Agent Chaos. If you could write your own graphic novel, what would the main hero's name be? 
Berby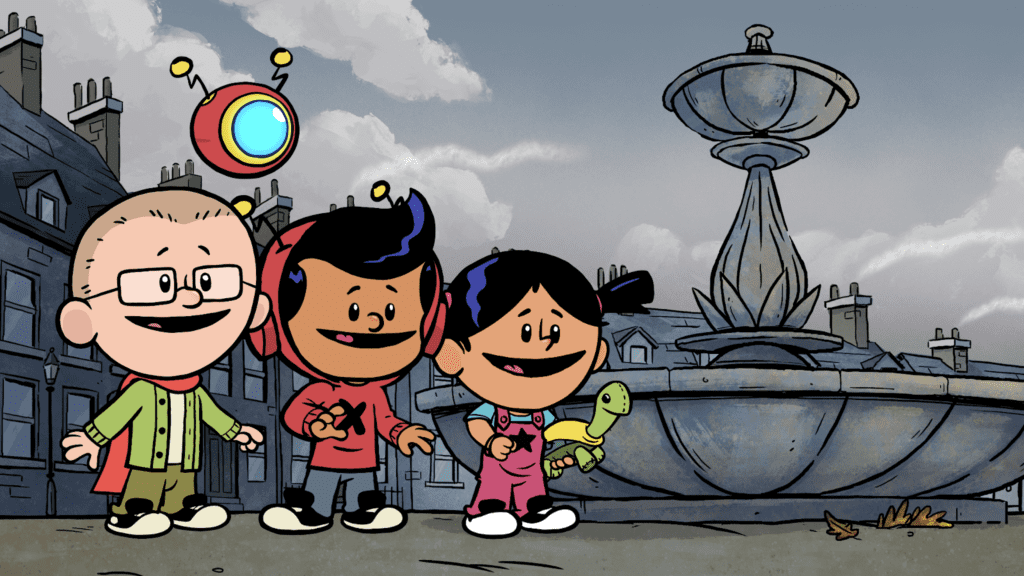 Last but certainly not least is Berby, the high tech robot in The Secret Museum that helps the kids travel back in time. Berby projects holograms of who they will be meeting, along with where and when they will be traveling. 
The trio touches their hands to Berby to travel back in time and return to the present. Although Berby is unable to speak, it makes robotic sounds that Xavier's translator is able to translate to learn more about the heroes. For example, in the I Am Rosa Parks episode, Berby makes "blarp bloop" sounds which Xavier translates to "Berby says we're in Alabama". 
Who is ready for an adventure with Berby?
Now that you've learnt more about our favorite adventure trio, we want to know! Who do you think you are most like? Join us on our social pages to tell us who you relate to most. Visit us on Facebook, Instagram and Twitter.
The fun doesn't stop here! Now you can try out our "Which Xavier Riddle Character Are You?" Instagram filter to find out which of our favorite adventurers is most like you! Share yours on social with the tag @XavierRiddleHQ to be featured on our page. 
Join Xavier, Yadina and Brad on their adventures on PBS KIDS and the PBS KIDS mobile app from your own home!