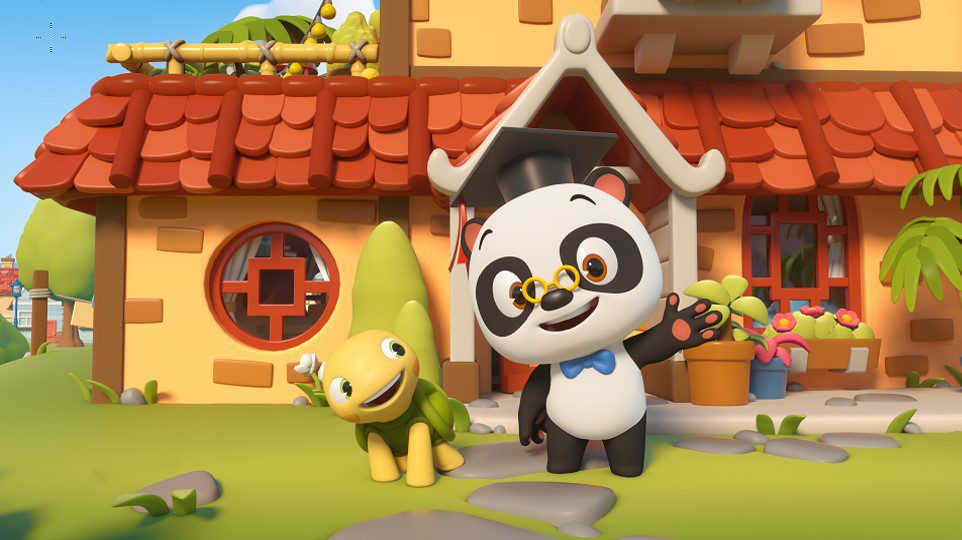 Dublin, Ireland – September 10 2018 – 9 Story Distribution International is pleased to announce that it has acquired worldwide distribution rights to the new 3D animated preschool series Dr. Panda (39 x 7'), excluding China, Hong Kong, Macau, Taiwan and select rights within MENA. Based on the popular, award-winning app franchise that has over 95 million downloads and 5 million active users per month, the program is Dr. Panda's first 3D series and has a targeted completion date of December 2018.
Developed for children ages 3-6, Dr. Panda is created and produced by Lin Yan with Giggle Garage (Origanimals, Kazoops, Cam and Leon) and Spider Eye (Jungle Junction, Thomas & Friends, The Happos Family). The series is written by Daan Velsink (Panic!, Snapshot, Bingo!) and Chris Parker (Peppa Pig, Shaun the Sheep) and directed by Patrick Chin. 9 Story Distribution International will launch the series at MIPJR and MIPCOM where it will be showcasing several completed episodes.
The series takes place in the wonderful world of Panda City, where every day Dr. Panda tries out a new job working together with his friends.  A mix-up at the post office? A chicken stuck in a tree? Carrots mysteriously disappearing? No problem! With a dash of creativity and a good deal of teamwork, Dr. Panda always saves the day! 
"We are truly excited to be representing this gorgeous series," said Alix Wiseman, VP Acquisitions & Business Development for 9 Story Distribution International. "The show delivers fresh storytelling which will resonate with preschoolers and is packed with characters full of warmth and charm."
"We're thrilled to partner with 9 Story Distribution International on the global distribution of Dr. Panda," said Lin Yan, Dr. Panda CEO. "Drawing on 9 Story's expert resources in distribution, combined with our proven expertise in app development and ever-growing global fan base, we now move forward in the sure knowledge that Dr. Panda will become a best friend for kids worldwide, not only through educational apps and toys, but also animated series."
About 9 Story Distribution International
9 Story Distribution International is the international distribution arm of 9 Story Media Group, a leading content creator, producer and distributor of kids & family focused intellectual property. Recognized around the world for best-in-class brands such as Daniel Tiger's Neighbourhood, Wild Kratts, Barney and Garfield and Friends, 9 Story Distribution International represents over 3,500 half hours of animated and live action programming, seen on some of the most respected international channels and platforms.  With facilities in Toronto, New York, Dublin and Manchester, 9 Story Media Group employs almost 700 creative and corporate staff.
About Dr. Panda
Since the launch of its first title in 2012, Dr. Panda has successfully pioneered as a global leader in the realm of children's edutainment, developing state-of-the-art applications, toys, and animations. The brand prides itself on delivering innovative, kid-friendly products used to enhance cognitive development at the early learning stages via a digital perspective. Proudly boasting over 100 million downloads to date, its open-ended, free play philosophy reflects its popularity among both kids and their parents. An expansion from app development to augmented reality toys saw the launch of its multi-award winning Dr. Panda Plus: Home Designer in Apple Stores across the United States and China in 2017, with its latest venture, Dr. Panda the animated series set to finish production at the end of 2018. Based out of Shanghai and Chengdu, China, Dr. Panda employs around 70 team members comprised of both local and international talent. 
For further information:  
Jennifer Ansley, Vice President, Marketing & Communications, 9 Story Media Group
+1 416 530-9900 ext 230, jennifer.ansley@9story.com