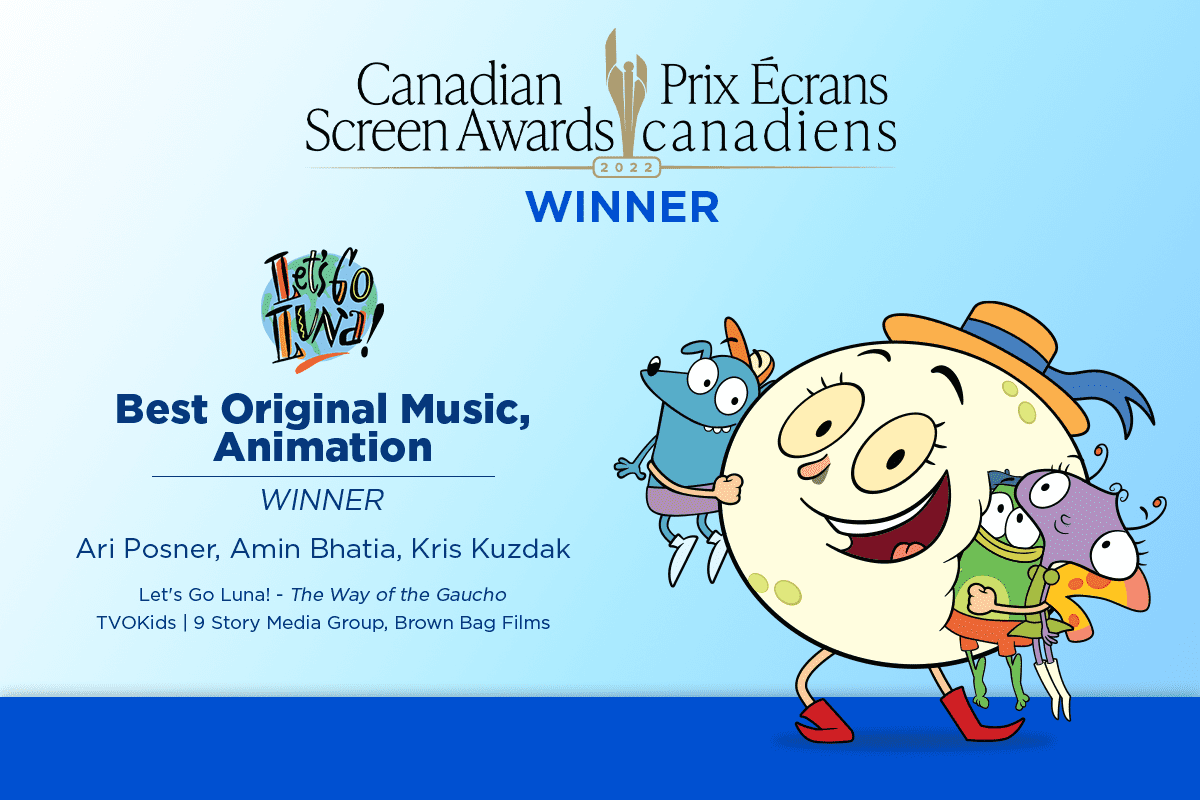 Last night the Academy of Canadian Cinema & Television honoured the best of the best in Canadian Kids media at the 2022 Canadian Screen Awards – Children's and Animation Program.  
We are thrilled to share that composers Ari Posner, Amin Bhatia and Kris Kuzdak took home the award for Best Original Music, Animation for their work on Let's Go Luna! – "The Way of the Gaucho". 
Let's Go Luna! follows the adventures of three animal friends – Leo, a wombat from Australia; Carmen, a butterfly from Mexico; and Andy, a frog from the United States – as they travel the globe with their parents' traveling performance troupe, "Circo Fabuloso". At each stop, Luna the Moon guides the trio as they learn about the local region, its people and traditions that make each place unique. Along their travels, the characters learn of a traditional folktale associated with each new location. From language and music, to food and art – each episode ends with a reminder that there's always more to see, learn and experience with each place you visit. Let's Go Luna is produced by 9 Story Media Group and animated by its award-winning animation studio Brown Bag Films, in their Toronto location. The animated series encourages kids ages 4-7 to explore and appreciate world cultures while developing social skills. In Canada, Let's Go Luna airs on TVOKids and Knowledge Kids. 
In addition to all the excitement at last night's Children's and Animation Awards, 9 Story CEO Vince Commisso was also presented with his Academy Board of Directors' Tribute Award during the live-streamed ceremony. Vince's longtime colleague and friend, 9 Story Chief Strategy Officer Natalie Osborne, was on hand to present him with his Academy Special Award in recognition of his extraordinary impact on the growth of the Canadian media industry.  
Congratulations to Vince Commisso, this year's recipient of the Academy Board of Directors' Tribute! @9StoryMG #CdnScreenAwards pic.twitter.com/6D1jHfPxtp

— The Canadian Academy (@TheCdnAcademy) April 6, 2022

The Academy Board of Directors' Tribute Award is a well-deserved honour for 9 Story's exceptional leader. Over the past two decades, as President & CEO of 9 Story Media Group, Vince has built a thriving world-class content company that produces and distributes top quality content for young audiences around the world and employs 1100+ staff, including over 400 Canadians. He has also earned the respect of his industry peers thanks to his continued advocacy and work in support of Canadian production and the protection of Canadian culture.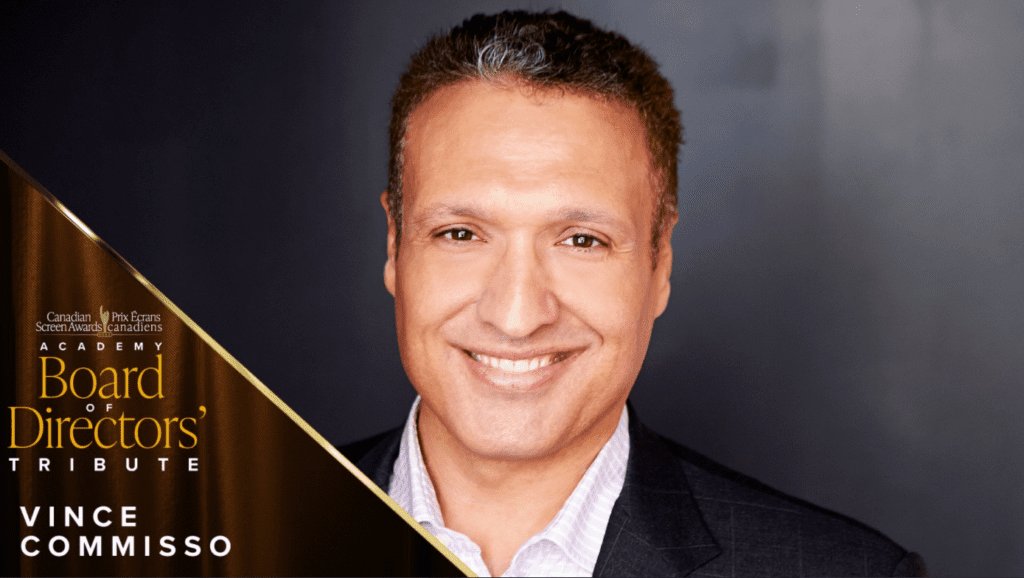 A huge congratulations to our visionary CEO Vince Commisso. Thank you for your inspirational leadership, integrity & dedication to making positive change across the Canadian media landscape & beyond.  
Finally, a shout out to all the 2022 CSA honorees and one more standing ovation for the Let's Go Luna composer team, we are absolutely over the moon about the news of your win! And to all our nominated productions this year, we couldn't be prouder of the work you created! 
To learn more about this year's Canadian Screen Awards click here and to watch the Children's & Animation Awards click here!