We have some AMAZING news! Xavier Riddle Museum Maker took home Best Alternative Game in the Digital – Preschool category at this year's Kidscreen Awards ceremony, which took place last night, Tuesday, February 14th, in Miami as a part of the 2023 Kidscreen Summit programming. A huge congratulations to our 9 Story Interactive team, and our partners at PBS KIDS and Relish Studios.
Hosted by drag performers and child educators Fay Slift and Fluffy Soufflé (stars of The Fabulous Show with Fay and Fluffy), the 2023 Kidscreen Awards celebrated the year's best work in children's television and digital media. Xavier Riddle Museum Maker was nominated for Best Alternative Game in November, alongside fellow nominees On the Job: Astronaut (Noggin) and Donkey Hodie: Speedy Delivery (Fred Rogers Productions, Curious Media). On hand to accept the Best Alternative Game award was Wendy Harris, 9 Story SVP of Content and Creative Affairs, and Paul Pattison, founder and CEO of Relish Studios.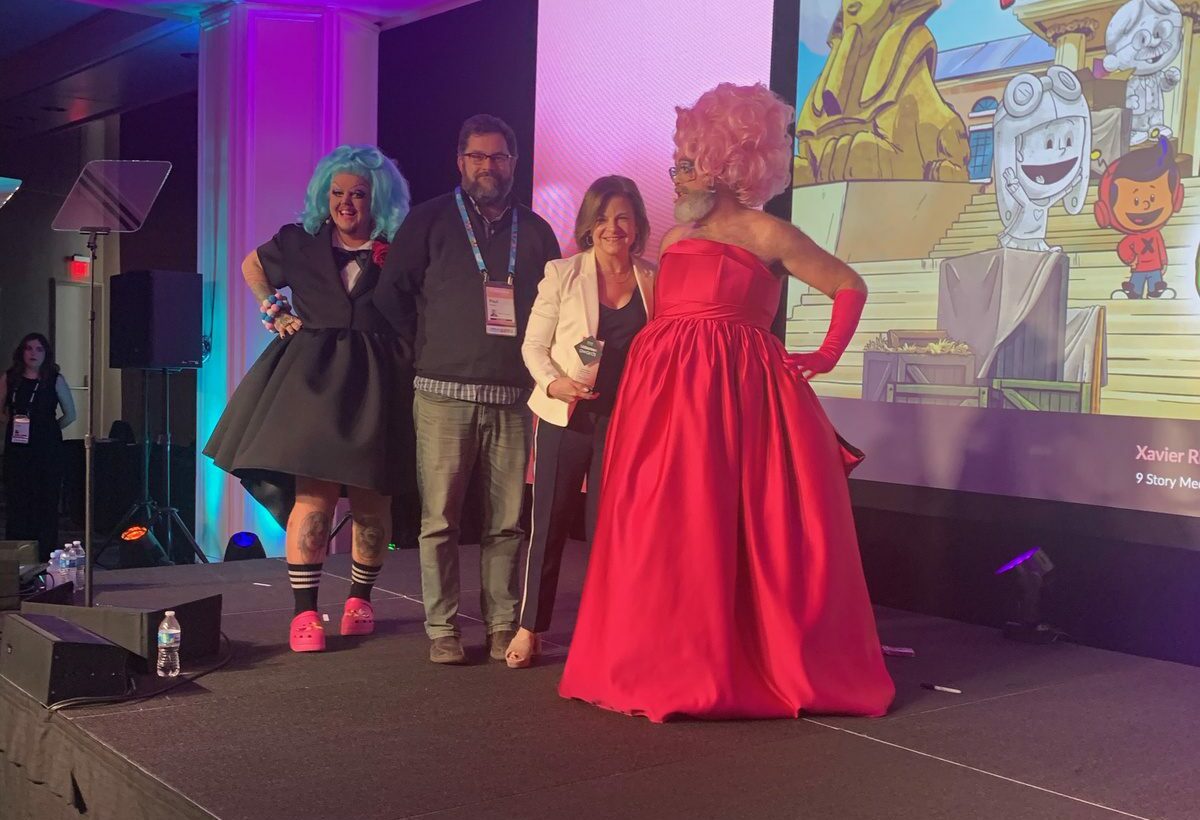 We also checked in with Alex Breen, 9 Story VP, Interactive for his reaction on this year's Kidscreen Awards win:
"It's an AMAZING honor to have our Xavier Riddle Museum Maker game recognized with the Kidscreen Best Alternative Game Preschool Award! Like the TV series, we created this immersive interactive experience to engage and inspire kids to be real-life heroes, pioneers, leaders, changemakers and achievers in a time when we need them most.

Big congratulations to Relish, our incredible game developer for their unwavering creativity and smarts, our ever collaborative PBS KIDS Digital partners, our terrific voice talent and engineers at Creativity Inc., our super talented 9 Story Creative Services and Brown Bag Films Production teams, the brilliant minds of Brad Meltzer and Chris Eliopoulos, and of course, to my 9 Story Interactive team for its heart, dedication and vision to always dream big!"
In Xavier Riddle Museum Maker, players gets to create exhibits for real-life historical figures, who are known for doing great things that have never been done before. Players are sent on curious missions to locate hidden artifacts that are connected to a particular historical "pioneer" or "changemaker", who are placed throughout the many rooms of the museum. Once an artifact is found, one must bring it back to the historical figure's room to help create and complete a fantastic museum exhibit!  
Xavier Riddle Museum Maker is based on the animated adventure-comedy Xavier Riddle and the Secret Museum, inspired by Brad Meltzer and Chris Eliopoulos' best-selling kids book series, Ordinary People Change the World. The show follows the adventures of Xavier, Yadina, and Brad, as they travel back in time to meet famous heroes of the past and learn how to be their own heroes of the present! Museum Maker features many of the same pioneers and changemakers that appear throughout the series. 
We also wanted to give a special shout out to our partners at Fred Rogers Production on their Best Website win for Donkey Hodie. 9 Story is proud to be both the global distributor and the worldwide (with the exception of the US) merchandising and licensing partner for this fantastic series. And big applause to our partner's at Nick Jr. on their win for Best YouTube Channel in the Digital-Preschool category for Blue's Clues & You!.
And a huge congratulations to all this year's honorees, and of course to all of our brilliant 9 Story and Brown Bag Films nominated productions, which included Get Rolling with Otis nominated for 'Best New Series – Preschool,'  Karma's World nominated for 'Best Inclusivity – Kids,' and Ada Twist, Scientist nominated for 'Best Inclusivity – Preschool.'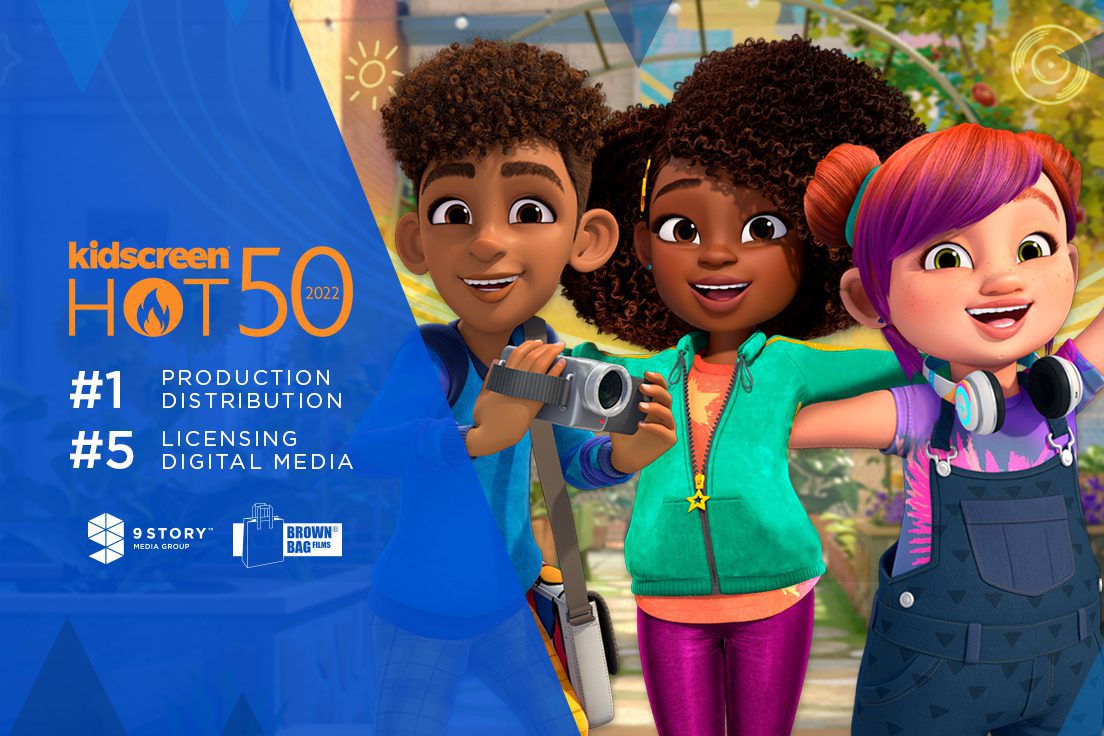 Finally, the Kidscreen Hot50 honorees were also celebrated during this year's Kidscreen awards ceremony. Accepting the Hot50 award for the top spot in Production, representing 9 Story Media Group and Brown Bag Films, was 9 Story CSO Natalie Osborne and Brown Bag Films SVP of Production (Europe) Gillian Higgins. To accept the Hot50 award for the number one spot in Distribution, 9 Story's Alix Wiseman, SVP of Distribution & Acquisitions, and Elianne Friend, VP of Digital & Distribution, took the stage together, on behalf of 9 Story Distribution International. 9 Story Media Group and Brown Bag Films earned the #1 Spot in Production and Distribution on this year's Hot50 list, with 9 Story also placing in the #5 spots for both Licensing and Digital Media. Again, a huge thank you to our extraordinary teams and crews at 9 Story and Brown Bag Films, without whom opportunities like these would not exist. It's truly incredible to see what we can achieve together!
This year's Kidscreen Awards took at a special awards ceremony during Kidscreen Summit 2023 in Miami, on Tuesday, February 14.
For a full list of the 2023 Kidscreen award winners click here.