9 Story will be attending this year's Kidscreen Summit at the Intercontinental in Miami, from February 12 to 15, 2023. Kidscreen Summit is renowned as the kids entertainment industry's most important annual event. The conference brings together creators, producers, distributors and buyers of kids programming for meaningful pitching and business networking opportunities. The conference programming delivers high-level insight into the business of kids entertainment from the industry leaders who are driving trends and change. 
Members of 9 Story Distribution International, the distribution arm of 9 Story Media Group, will be on hand at this year's summit. The team will be representing the company's catalogue of over 4,400 half hours of animated and live action programming for kids, seen on some of the most respected channels and platforms around the world, including best-in-class brands such as Daniel Tiger's Neighbourhood, Wild Kratts, Barney and Garfield and Friends, and their most recent acquisition Atom Town, a new Irish animated preschool series, co-produced by Treehouse Republic and Turnip + Duck.
Atom Town follows a colourful community of characters based on the Elements of the Periodic Table. Playing together, solving problems together and sparking off each other, the Atoms ultimately learn the value of teamwork and diversity – with lots of comedy along the way too. The series aims to familiarize kids aged 3-6 with the names of key elements and their associated properties in a gentle and fun way.
This year 9 Story's VP of Research and Curriculum Rachel Kalban will be participating in the Summit panel 'DEI 2.0: It's all in the details' at the Bayfront Ballroom in the Intercontinental on Monday, February 13, from 3:00pm – 3:45pm. This impactful session with a special focus on accessibility, will examine how the kids content industry can take the responsibility of improving both on and off-screen representation and authentic storytelling one step further towards true inclusion, by going deeper into the details that deeply matter to audiences with disabilities. The panel will also feature Ellen Doherty, CCO/Executive Producer, Fred Rogers Productions, Andrea Griffith, Director of Content-Unscripted, Sphere Media Toronto and Brian Roberts, Co-Executive Producer, DreamWorks Animation. Moderating is Lauren Appelbaum, SVP, Communications, Entertainment & News Media, RespectAbility. 
The kids industry has been working hard to improve on-screen representation, tell authentic stories and provide more opportunities for diverse voices. But maintaining and building on these gains is an ongoing responsibility. With a special spotlight on accessibility, this can't-miss session will examine how to take this responsibility one step further towards true inclusion by going deeper into the details that deeply matter to audiences with disabilities.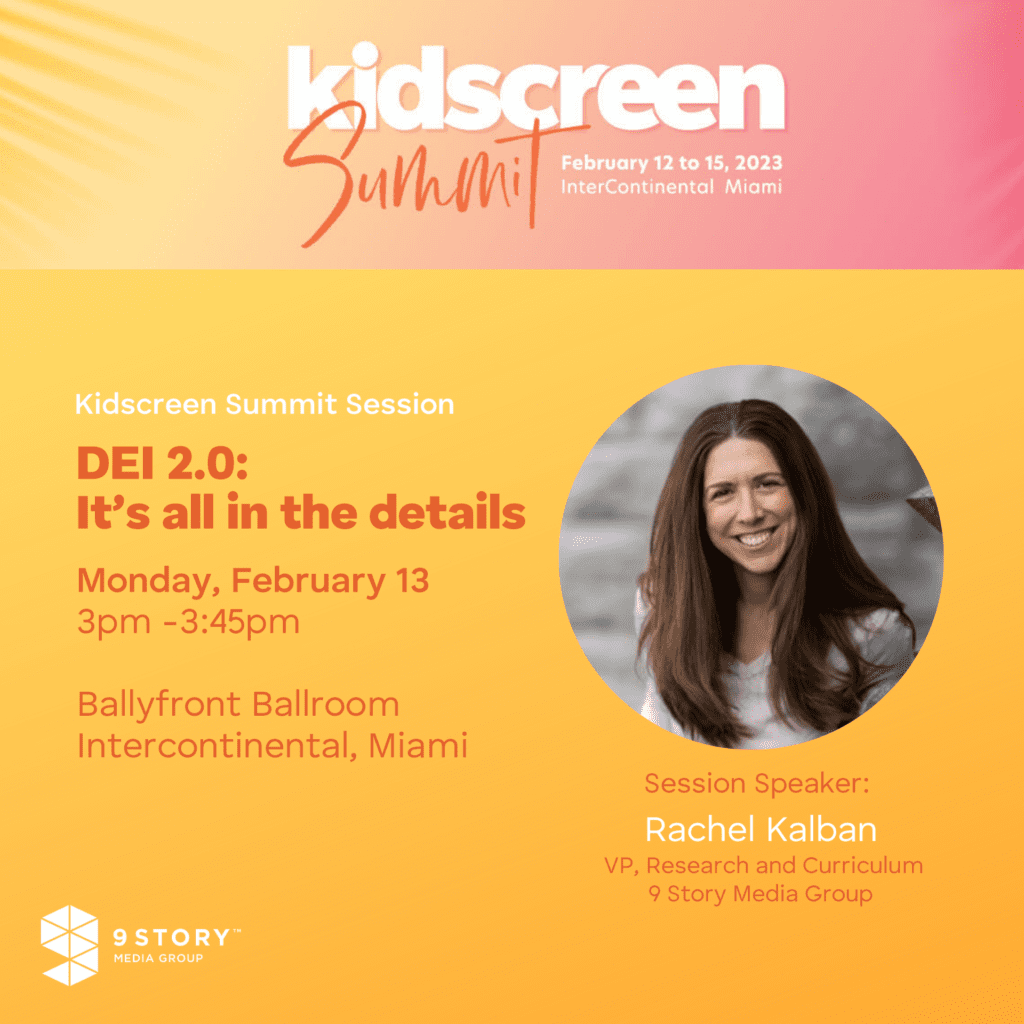 The Kidscreen Summit also plays host to the 14th Annual Kidscreen Awards ceremony, a high-profile celebration of children's content excellence, paying tribute to outstanding TV and digital media work that keeps kids and families entertained. The winners of this year's awards program will be announced at the prestigious ceremony taking place on Tuesday, February 14, which promises to be an even more unmissable event, thanks to colorful co-hosts Fay Slift and Fluffy Soufflé who are running the show.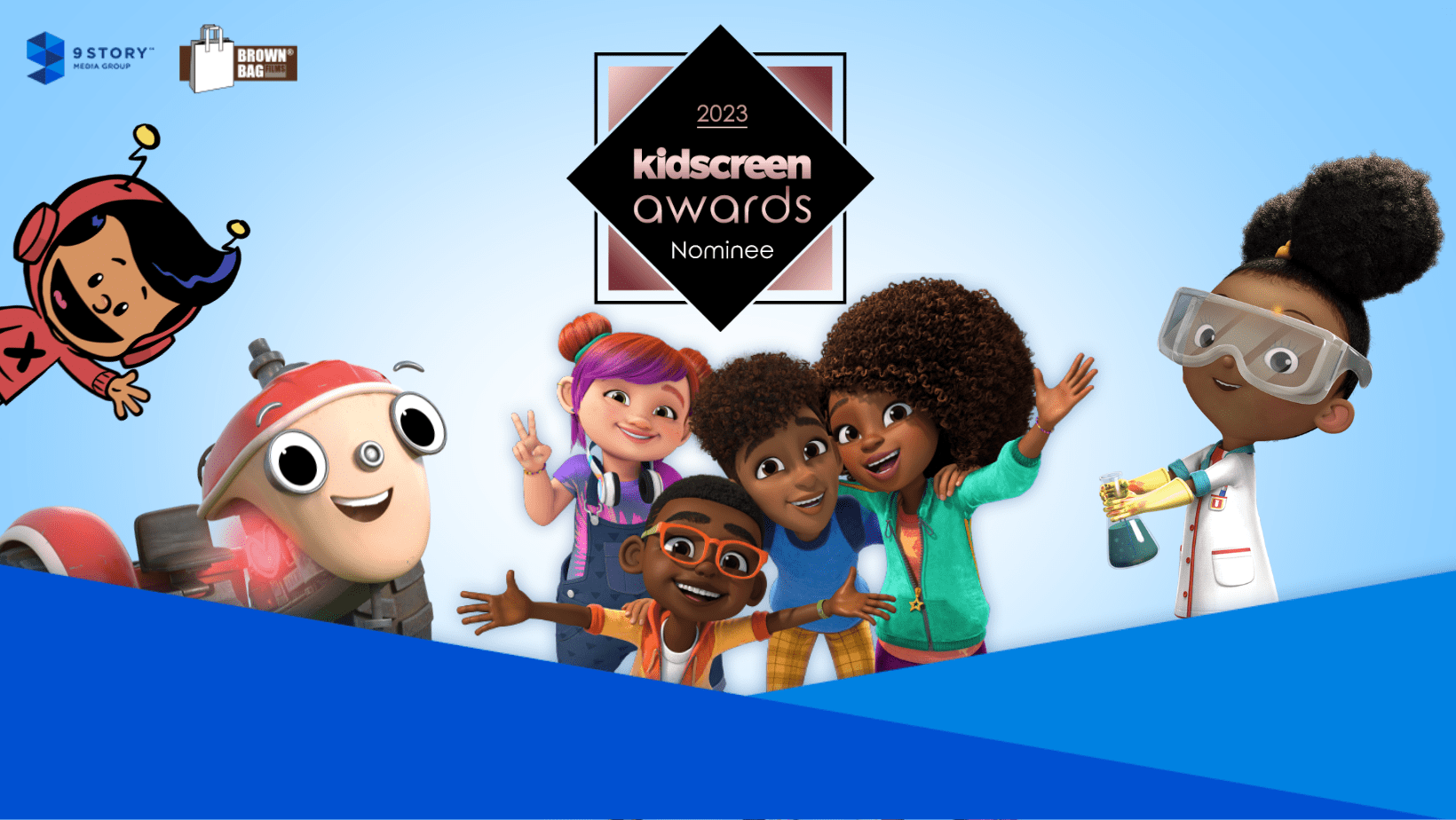 We will be crossing our fingers for all our 9 Story and Brown Bag Films nominees, including Get Rolling with Otis for Best new Series in the Preschool category, Karma's World for Best Inclusivity in the Kids Programming category, Ada Twist, Scientist for Best Inclusivity in the Preschool Programming Category, and Xavier Riddle Museum Maker for Best Alternative Game in the Digital Preschool category. Finally, we will be cheering on all our Kidscreen Hot50 honorees who will also be celebrated at this year's awards ceremony. 9 Story Media Group and Brown Bag Films earned the #1 Spot in Production and Distribution on this year's Hot50 list, with 9 Story also placing in the #5 spots for both Licensing and Digital Media. 
For more information on this year's Kidscreen Summit and Kidscreen Awards please visit the event website here! And if you are attending this year's event, stop by to say 'hello' to our 9 Story team.